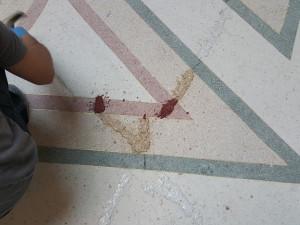 The one of the important part of terrazzo restoration is repairs. Repairs of cracks, holes, gauges and other imperfections. It is very important to identify the color of existing terazzo background and color of marble chips. It is a great idea to take the sample of existing terrazzo to local supplier in order to get matching marble chips and background color. Cement base terrazzo is repaired with Portland cement and epoxy base terrazzo with epoxy material. It is very important to prep the damaged areas by taking quality time and don't rush. Right prepping and color matching will guarantee the successful completion of the project.
Other Blogposts
In this blog the word Marble will represent most of the natural stones such as marble itself, travertine, limestone, granite and others. After a few years of daily usage of marble shower, its surface will build up layers of soap scum, calcium deposits, mold and grime. How did I end up with this? What am I doing wrong? Having marble shower was mistake? Those are the questions of frustration and disappointment. The solution is to perform professional cleaning and sealing by experienced...
I will highlight 5 Basic problems and solutions for your granite counter tops in this blog to help you and guide you to right direction. After a few years of having granite as your kitchen counter top system you might notice some changes that took place which caught your attention and trigger your concerns. #1. Seam joints are separating and adhesive is falling apart. You notice that applying a slight pressure makes counter tops move and and make them unstable. The solution is to find p...
A lobby interior and design always represent buildings in the best or the worst ways. It serves as a signature and the first impression for its guests, workers, and residents. In downtown Chicago, every highrise building can compete for the best lobby Design and the most important for marble and terrazzo floors. The time always rolls around to your condominium or building management to begin considering restoration of lobby floors. For that reason, it is a major factor to study its existing habi...