WHAT IS QUARTZITE TEXTURING?
Texturing quartzite floor during 8+ refinishing system - is a quite an interesting project we would like to showcase in this article.
As you all might know already natural stone can be polished, honed, and it can also be textured or in other cases it might be called brushed finish, or antique finish, or leather finish.
What you can see as a result of this process is a textured finish of the stone that has a look of a wrinkled leather or antique look.
The quartzite floor that we have in this project is in a form of not actually tiles, but, I would say, more like quartzite slabs that measure approximately 4 x 4 feet.
This stone has never looked right with the polished finish since not all the stones are meant to be polished.
The homeowner was not happy with the appearance of the quartzite floor which was installed throughout almost entire first floor of this massive house.
After consulting with the customer, it was agreed that the leather finish/textured finish would be the most ideal solution for this quartzite stone, along with our popular 8+ refinishing system.
Texturing quartzite will hide all the stone's imperfections showing different minerals.
In this particular 8+ refinishing system instead of diamond pads we are going to use diamond brushes in order to achieve textured finish of the stone.
GROUT REMOVAL
The ugly damaged grout had to go. So, the first step of our 8+ texturing system of quartzite floor is grout removal.
We use the least dusty system of grout removal process. It is an intricate process that is professionally carried out by our expert technicians.
NEW GROUT INSTALLATION
After all tile/slab seams has been cleared of old grout we proceed to our next step of filling seams with epoxy (in this case polyester resin) grout.
We mix filler in small portions with the hardener. We fill in all the seams and let it cure.
BEFORE TEXTURING, THERE IS QUARTZITE GRINDING
We start next step by grinding quartzite with the metal diamond pads to remove any tile/slab lippage and to remove excess of grout filler.
TEXTURING QUARTZITE FLOOR WITH DIAMOND BRUSHES
This is the most interesting step where we use a large variety of different grit levels of diamond brushes for texturing quartzite slabs.
We begin texturing quartzite from the 24 grit level diamond brushes all the way to 400 grit level. This takes us quite a number of days to go through each grit level since the area to be covered is very substantial.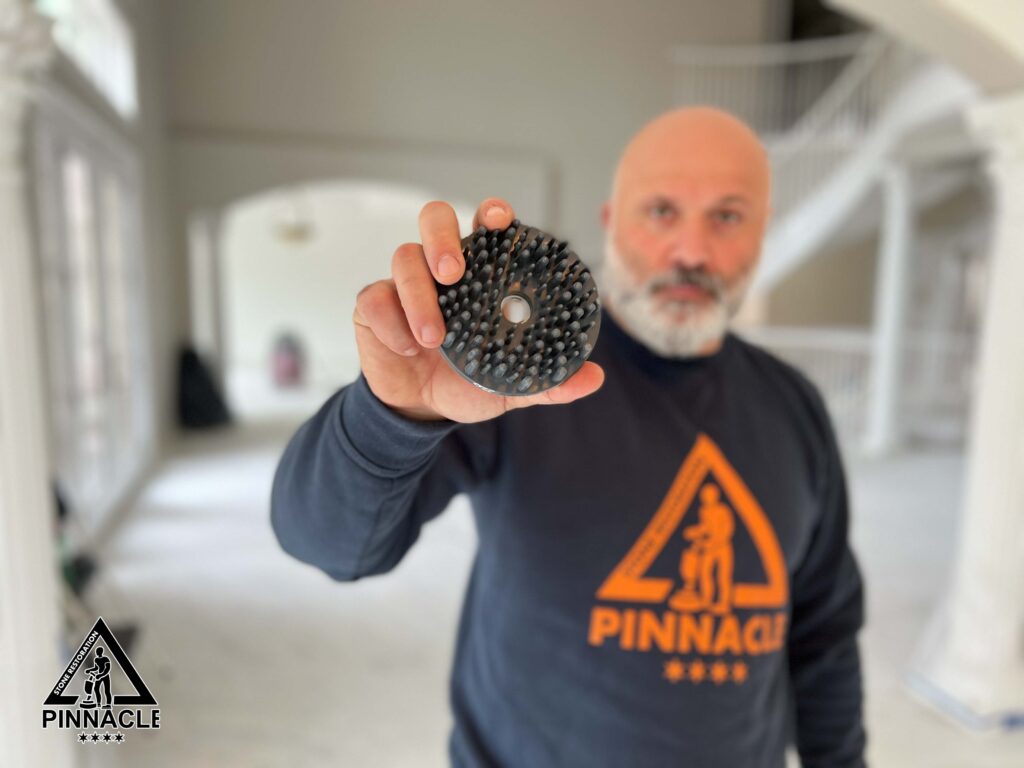 GETTING SHEEN AFTER TEXTURING QUARTZITE
After using all the grit levels of diamond brushes for quartzite texturing, we achieved the desired brushed/leather/texture finish. This step takes our stone to a new sheen level.
We use D.I.P. System (Diamond Impregnated Pads) in order to achieve sheen in this textured quartzite floor.
It is a 3-step diamond impregnated pad polishing system that brings natural stone to a beautiful shiny look. The level of sheen we reach will help textured finish stand out more. The diamond grits are 800/1500/3000.
SEALING TEXTURED QUARTZITE
Last step of our quartzite texturing system is sealing.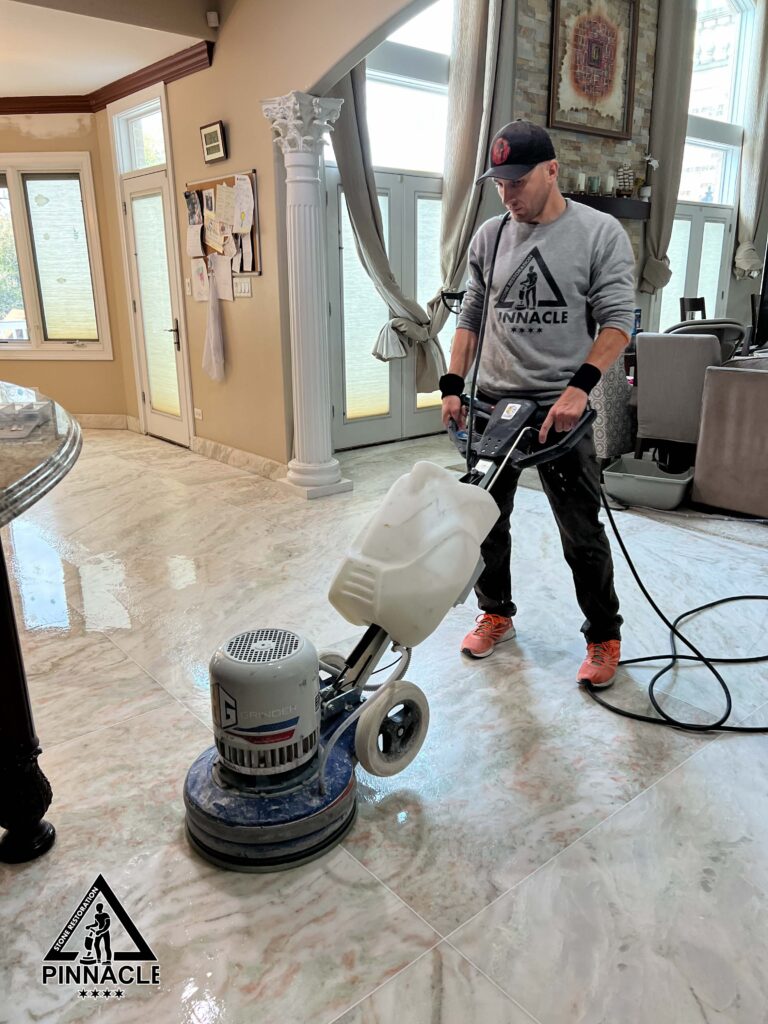 RESULTS
BEFORE AND AFTER
It was a successful project where we used our 8+ system and refinished this quartzite floor from polished (already dull looking) to textured/leather finish (brushed finish) look. If you are interested in a makeover of your natural stone call (630) 379-7362 to schedule a FREE estimate today or send a quote request online.