In this article we will showcase a cement tile restoration process, talk about the origins and characteristics of cement tile, and highlight some PROS and CONS of choosing cement tiles for your home or business.
ORIGINS CHARACTERISTICS OF CEMENT TILES
Cement tiles come in different gorgeous patterns. They became an interesting popular floor or wall solution when one seeks a particular style or an intricate design pattern with unlimited color selection while being durable, strong, and Eco-friendly material.
Historically this trend is more popular in Europe rather than in the US. In some European countries you can find way over 100 years old cement tiles which still look beautiful and well cared for.
This New York Times piece explains the growing popularity of the tile in the US in the recent years.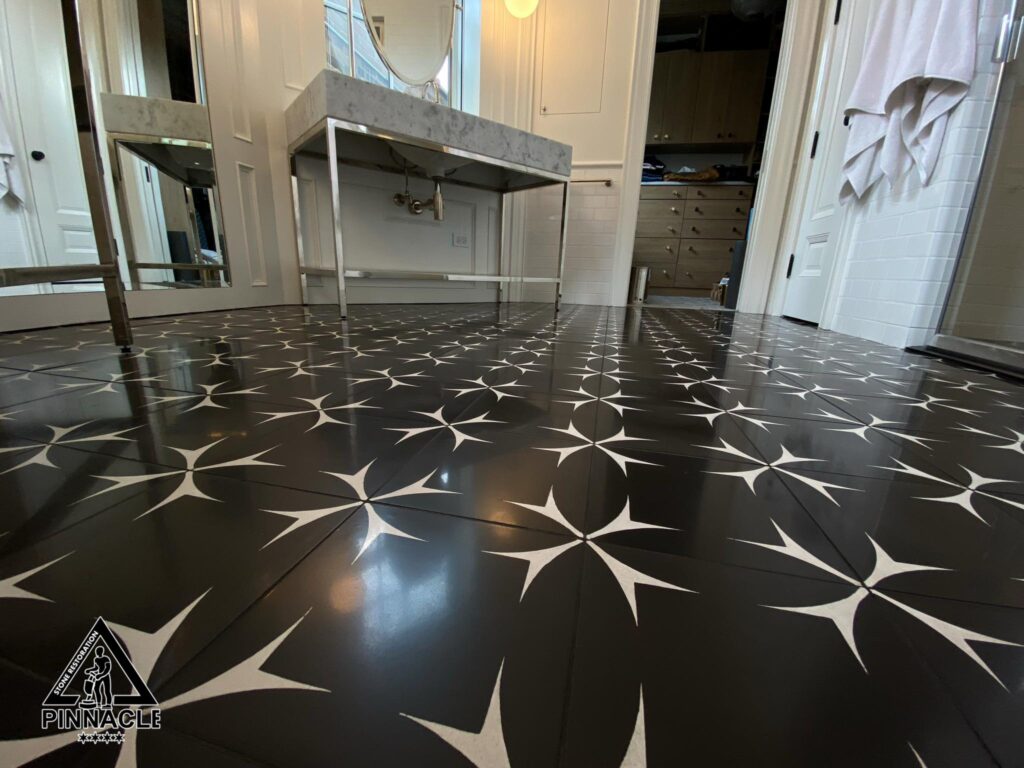 CHARACTERISTICS OF CEMENT TILES
Cement tiles are known to be exceptionally durable and undeniably eco-friendly because they are made from natural materials such as sand, color pigmentation, marble powder, mineral powders, and of course cement.
All cement colors are hand poured into decorative mold, then tile is hydraulically pressed, and water cured. In comparison, most decorative ceramic tiles are being painted on and glazed.
Cement tile does not require to be fired at a high temperature in a kiln in comparison with ceramic tile, hence the emissions are not involved. It is a very energy efficient process compared to ceramic tile manufacturing.
Cement tiles will develop a natural patina over time. If you don't favor that patina look of cement tile, we recommend sealing it more often, depending on the traffic the tile gets.
There are so many patterns to choose from. Some modern ones and some traditional ones that date back 100 years or older.
This is not a surprise why cement tiles became so popular in the US in the recent years. The variety of patterns is endless considering that you can order custom colors and designs as well.
When glazed ceramic tile chips the body color can be seen underneath. On the other hand, a cement tile, when chipped, would have a depth of the same color as the surface and will not have a color difference as in chipped ceramic tile.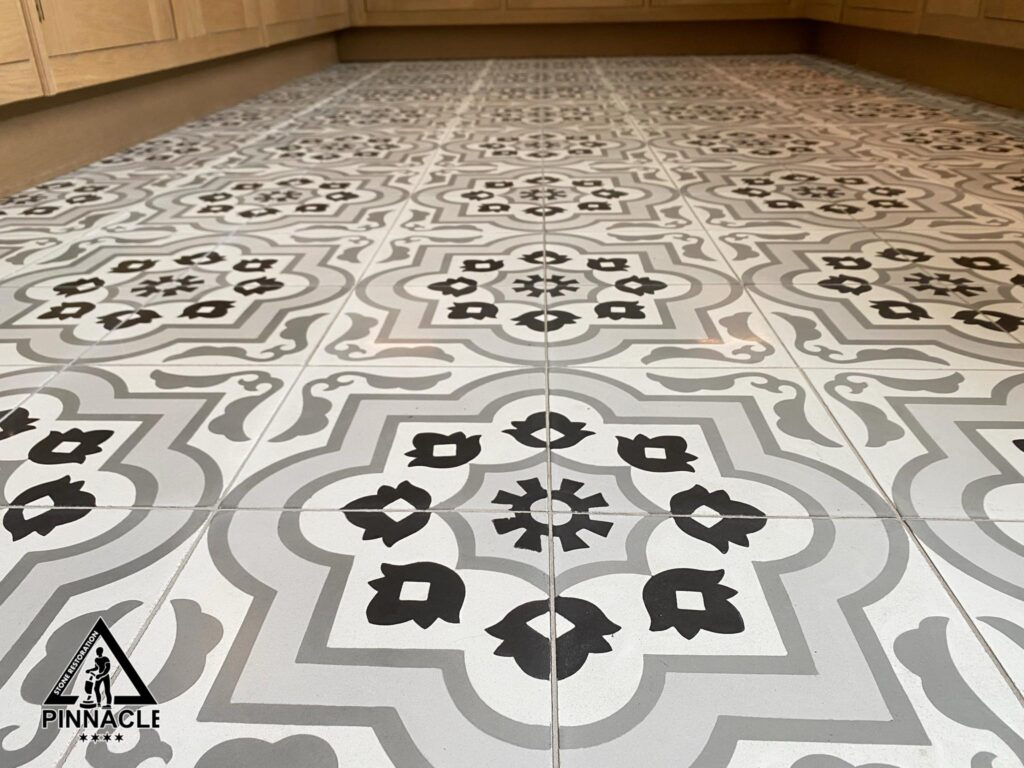 PROS AND CONS OF CEMENT TILES:
Unfortunately cement tile as a flooring choice comes with its drawbacks. First that you might notice, before picking this tile as your flooring solution, is that it is much more expensive and challenging to install cement tile compared to ceramic or porcelain.
We would not recommend cement tile as a shower tile as it will be incredibly challenging to maintain and keep original look without staining. If you got it already in your shower frequent sealing is a must.
PROS of Cement Tile (Advantages)
Decorative/beautiful
Eco-friendly
Handmade
Durable
Can be restored
Variety of colors
Variety of patterns
Really long lasting if
properly cared for
CONS of Cement Tile (Disadvantages)
High cost
Porous
Stains easily
High maintenance
Costly challenging installation
Prone to damage from acids
Heavy (not for all walls)
May etch (if marble dust added)
Seal, seal, seal, seal, seal!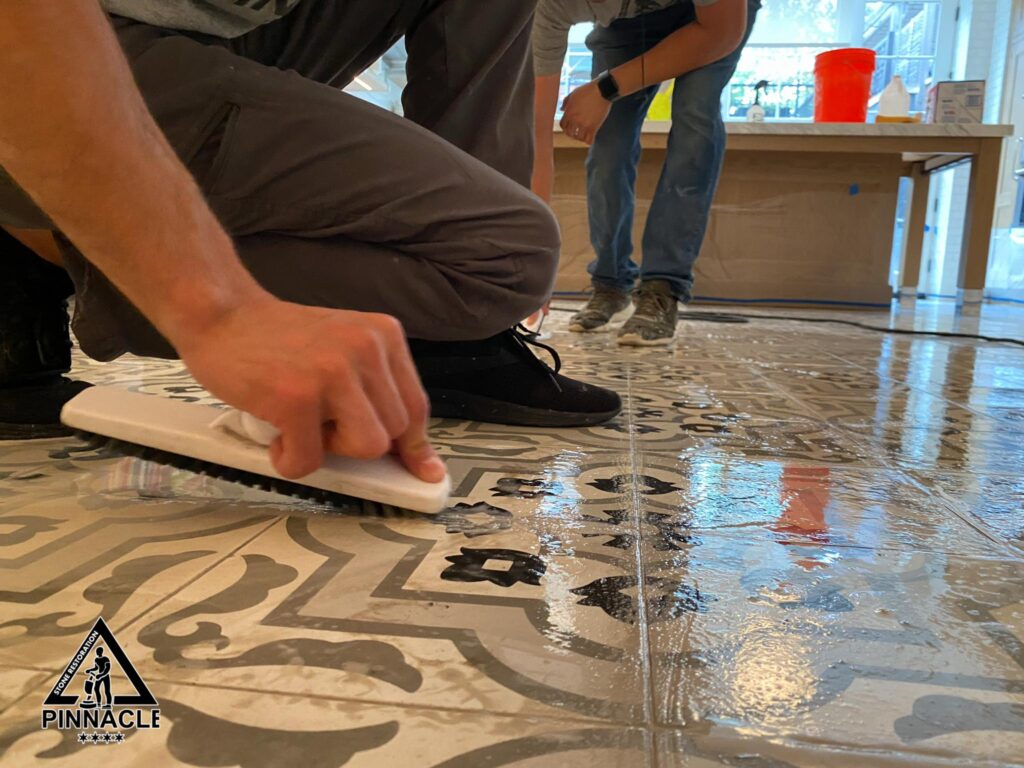 CEMENT TILE MAINTENANCE
Clean using only soft materials, nothing coarse or abrasive to avoid damage.
Maximally avoid harsh chemicals, highly acidic or alkaline cleaners.
We recommend cleaning your cement tiles with mild, pH neutral cleaners only.
Clean up any type of spills IMMEDIATELY.
Do not let any liquid sit on top of the cement tile surface.
Regular cleaning and re-sealing are highly recommended.
CASE STUDY VIDEO OF CEMENT TILE RESTORATION
The cement tile in this master bathroom had significant wear and tear, staining and discoloration due to porous nature and high water absorption levels of this particular cement tile.
We refinished the surface by honing cement tile using our D.I.P. System (Diamond Impregnated Pads).
We work with different grit level diamond impregnated pads to gradually smoothen the surface of cement tiles
We clean the grout and the entire cement tile by hand with a neutral pH cleaning solution.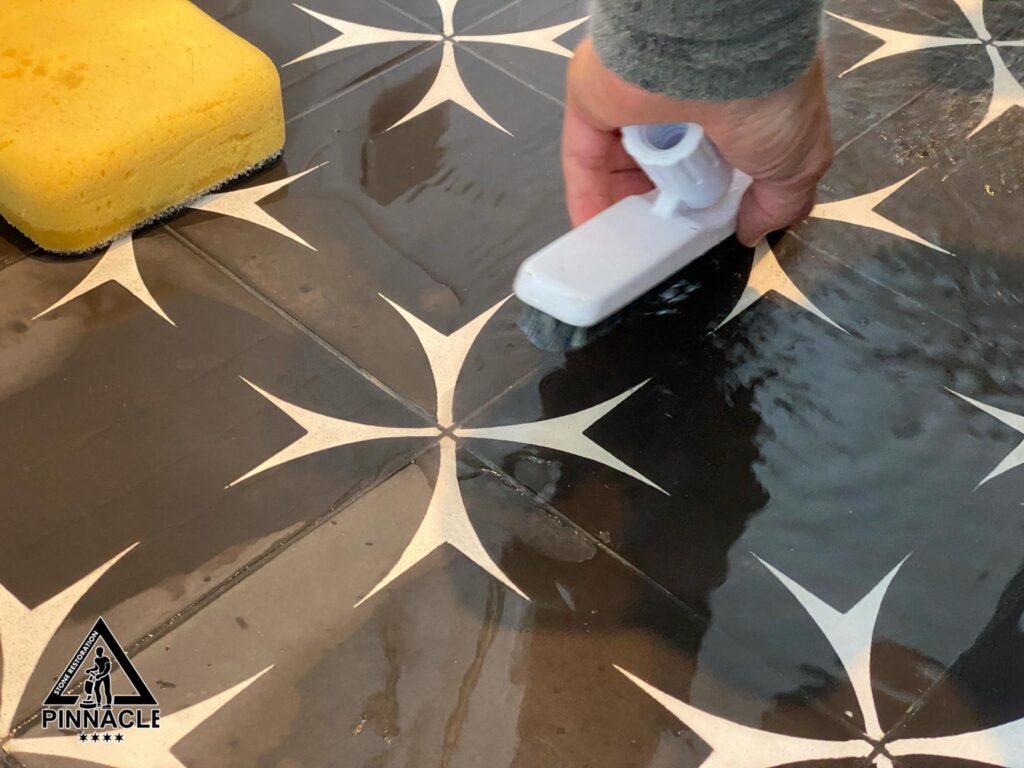 We work with handheld machine on edges and on hard reaching spaces for a floor machine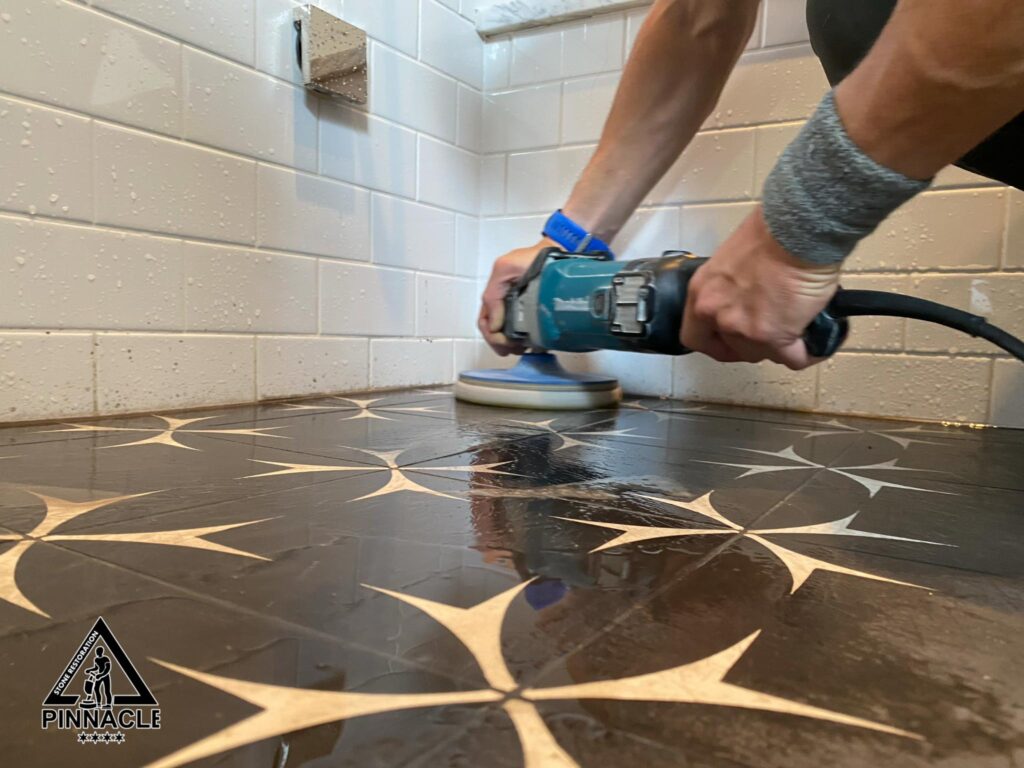 As the last step of cement tile restoration process we sealed the cement tile with a proper sealing agent in order to prevent easy staining and water penetration.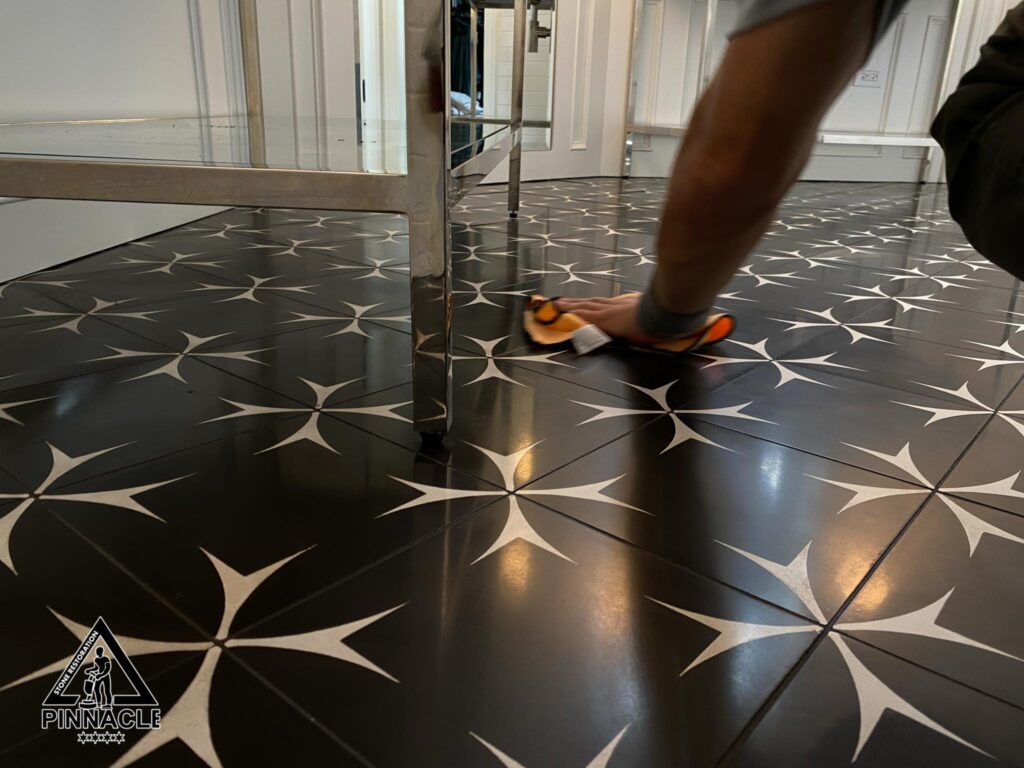 In this case study we successfully helped our client to deal with cement tile issues and restored the tile floor back to beautiful look and functionality.
CEMENT TILE RESTORATION OF KITCHEN FLOOR
Ultimately, when looking for a flooring solution, the aesthetically pleasing, sophisticated look of cement tiles might win you over the drawbacks of its high maintenance, or vice versa, change your mind installing it in the first place.

From our extensive experience of dealing with cement tiles, we would recommend some other natural stone choices or even ceramic or porcelain tile for your bathroom or kitchen floors, or high traffic areas.
However, if you've already got some cement tile floors that need to be worked on and restored, we are here to help you and are able to professionally care for your cement tiles.
If interested, please call or text (630) 379-7362 to schedule a FREE estimate today.