It is not uncommon to see terrazzo stairs and terrazzo floors in residential homes of Chicago and its suburban areas.
It is well-known that terrazzo is a durable and long-lasting material that is frequently used in commercial and residential buildings.
Some of the main benefits of residential terrazzo is that it is easy to maintain, also it's a low maintenance material, it is extremely durable and can withstand a heavy traffic, it is such a long-lasting material that can last you several generations in your home. As an extra benefit terrazzo is also very eco-friendly since it's made from recycled materials.
Terrazzo stairs can be a beautiful and stylish addition to any home, but they could be also more difficult to professionally restore than terrazzo floors.
There are a few reasons for this, first, terrazzo stairs are often made with a more intricate design than terrazzo floors. It means that there are more nooks and gaps for dirt and debris to accumulate, which can make it harder to clean and restore. Second, terrazzo stairs are subject to more wear and tear than terrazzo floors because people are constantly walking up and down them, that could cause the surface to become scratched and damaged.
Despite the challenges of restoring terrazzo stairs, it is still possible to have them look their best with regular maintenance. The couple of tips we'd recommend would be sweeping and vacuuming terrazzo stairs regularly, so the dirt would be removed; clean with mild detergent and water; seal terrazzo at least once a year (depending on how heavy the foot traffic is), so they would be protected from staining and damage; if damage like scratches, cracks, stains or heavy wear occur, do a professional restoration of terrazzo stairs with the professional restorers like our company Pinnacle Stone Restoration. We could bring your terrazzo to the original beauty and sheen.
We would like to showcase you one of our recent restoration projects of terrazzo stairs.  In this project we had Intricate details to work on such as honing terrazzo, polishing terrazzo, restoring sides of staircase, restoring stair risers, restoring wall string, restoring outer strings, restoring landings, repair cracks and sealing terrazzo in all mentioned above areas.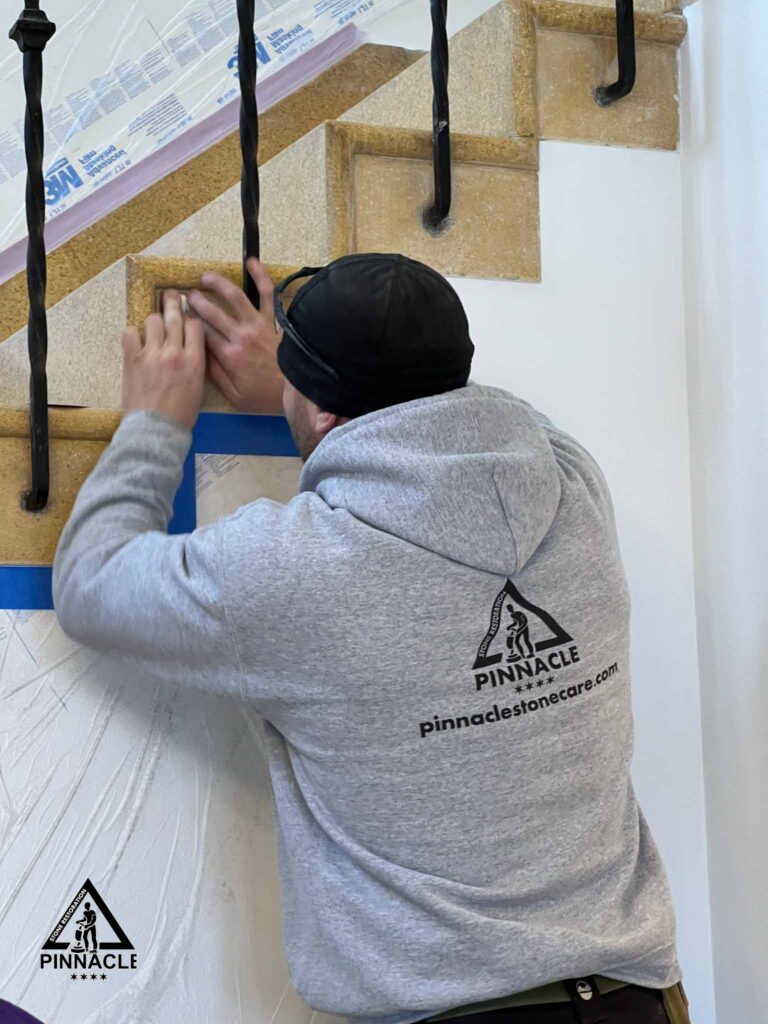 Here you can watch our project videos to understand the process of our 8+ step refinishing system. If any questions or concerns might arise, please feel free to contact us or ask for a free estimate.