Terrazzo back story
Before we get to terrazzo refinishing, let's mention that the roots of terrazzo hail from Italy. Originally made as a mix of glass, marble, granite, and quartz aggregates with cement, nowadays you will come across terrazzo aggregates mixed with epoxy resin as well as with concrete.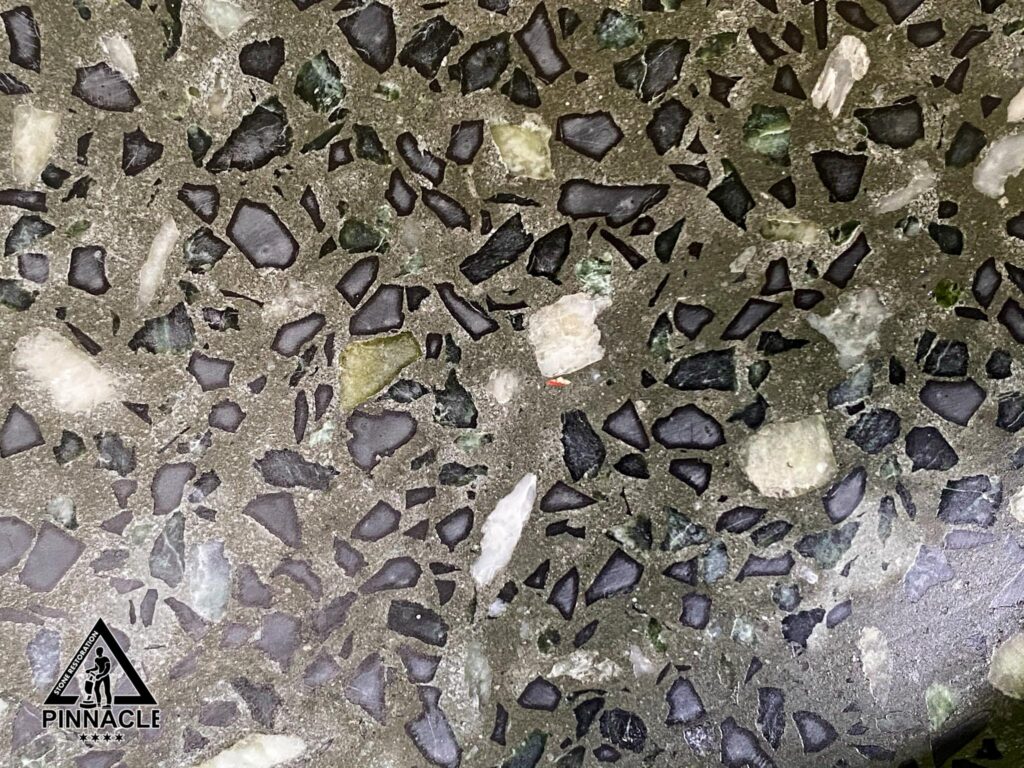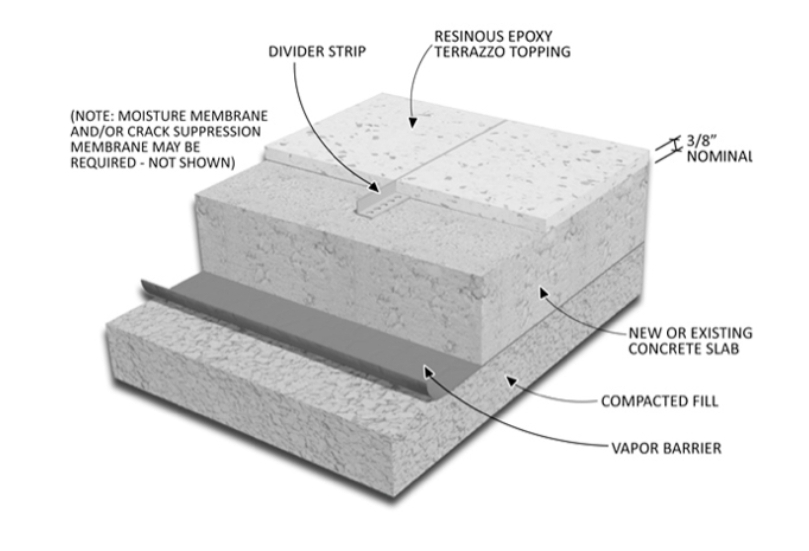 What are market's finish requirements for terrazzo floors?
Traditionally terrazzo gets installed by terrazzo specialists and trade. The process involves various types of preparation and substrate systems that are precisely calculated for timeless performance of terrazzo floors.
Terrazzo companies invest tremendous amount of work to ensure complete faultless systems that will guarantee flawless business transactions between companies and building owners.
The budget doesn't allow room for errors. It also limits upgrades which could lead to extra dollar spending.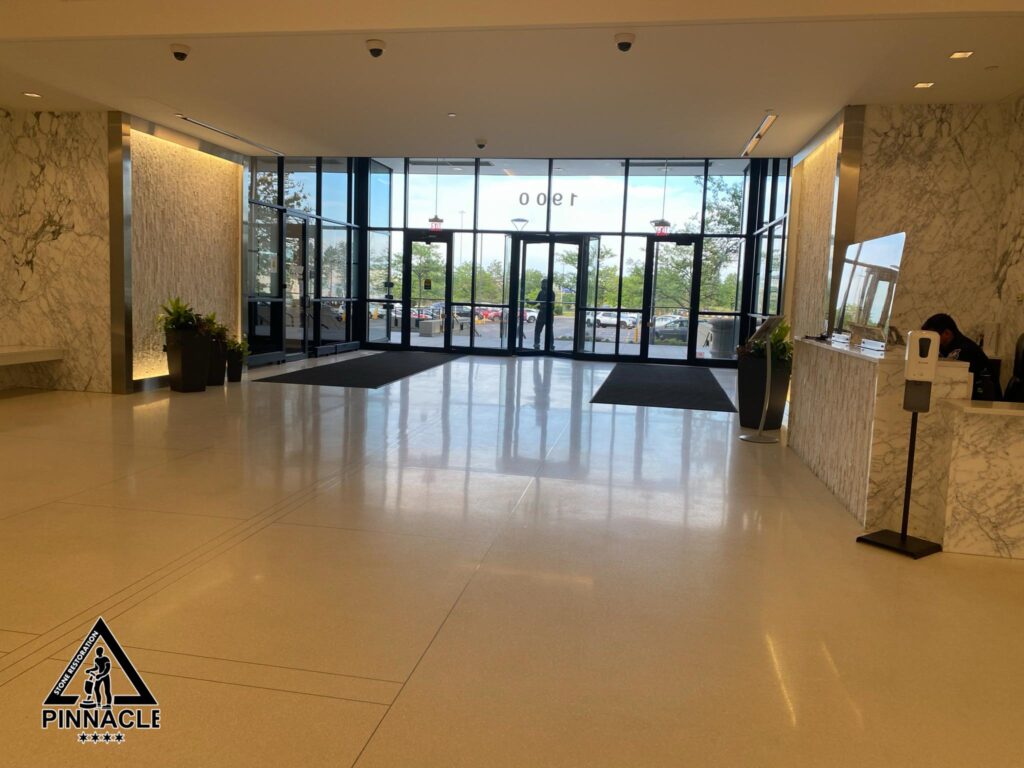 Why stop at 200 grit level?
Most of the time in order to control budget limits terrazzo is merely partially diamond finished up to 200 grit level.
There are multiple steps of diamond finishing that are left out in order to stay within budget. However, those steps are the game changing aspect of terrazzo diamond polishing trade.
When terrazzo installers complete 200 grit level to achieve a final finish of terrazzo floor, they seal the surface with topical sealer, also known as coating or wax.
These coatings are meant to preserve terrazzo by taking on all the beatings and wear and tear of heavy foot traffic and everyday floor use. They are also used to produce artificial gloss and reflectivity of terrazzo.
This system is time efficient and cost effective, but YOU GET WHAT YOU PAID FOR.
Over the years those coatings become faded, discolored, and much more visibly worn than a mechanically diamond polished terrazzo floor.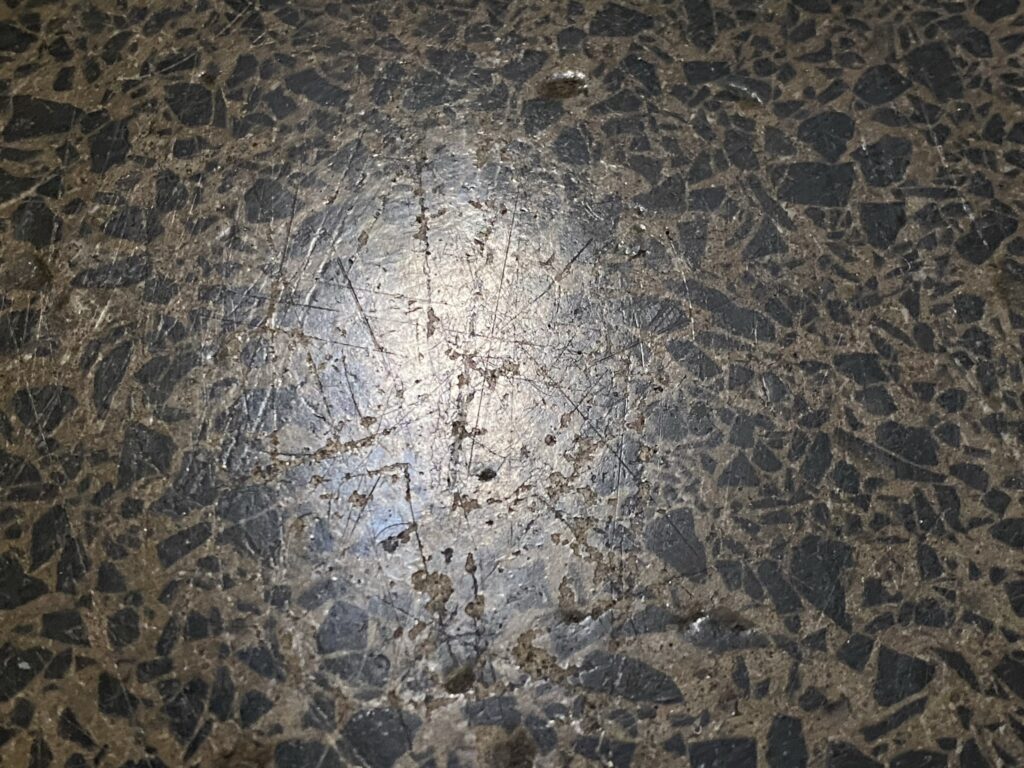 Thick layers of sealers/coatings which are applied on terrazzo has its own specific texture qualities. They may provide particular sheen which described as " ORANGE PEEL ".
The name says it all. Terrazzo surface that was treated with coating sealers looks exactly like a surface of an orange peel.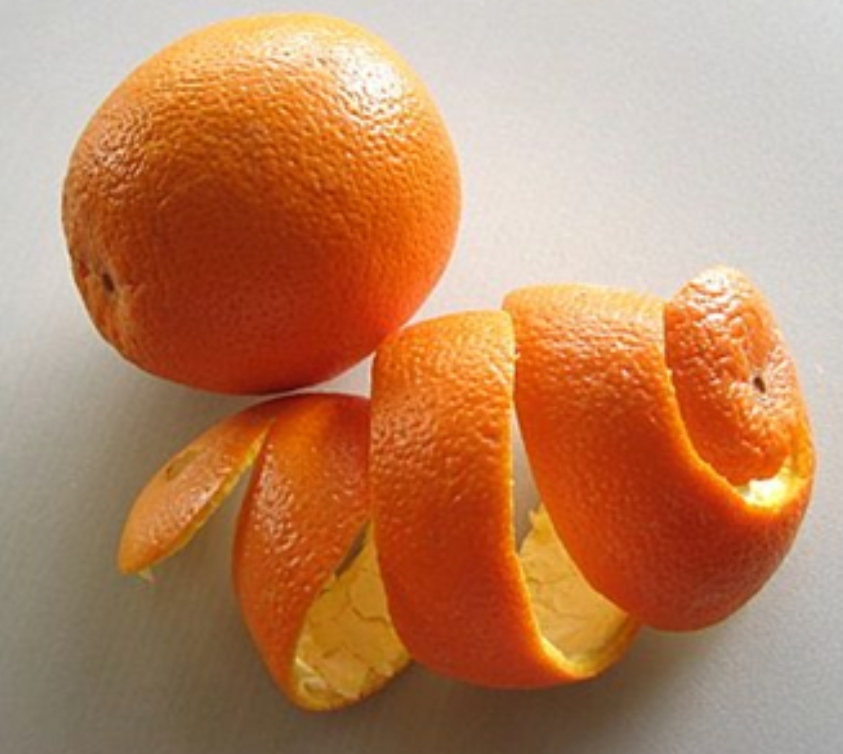 In these cases coated terrazzo surface has very limited reflectivity in comparison to mechanical diamond polishing technique, which results in "GLASS LIKE" finish.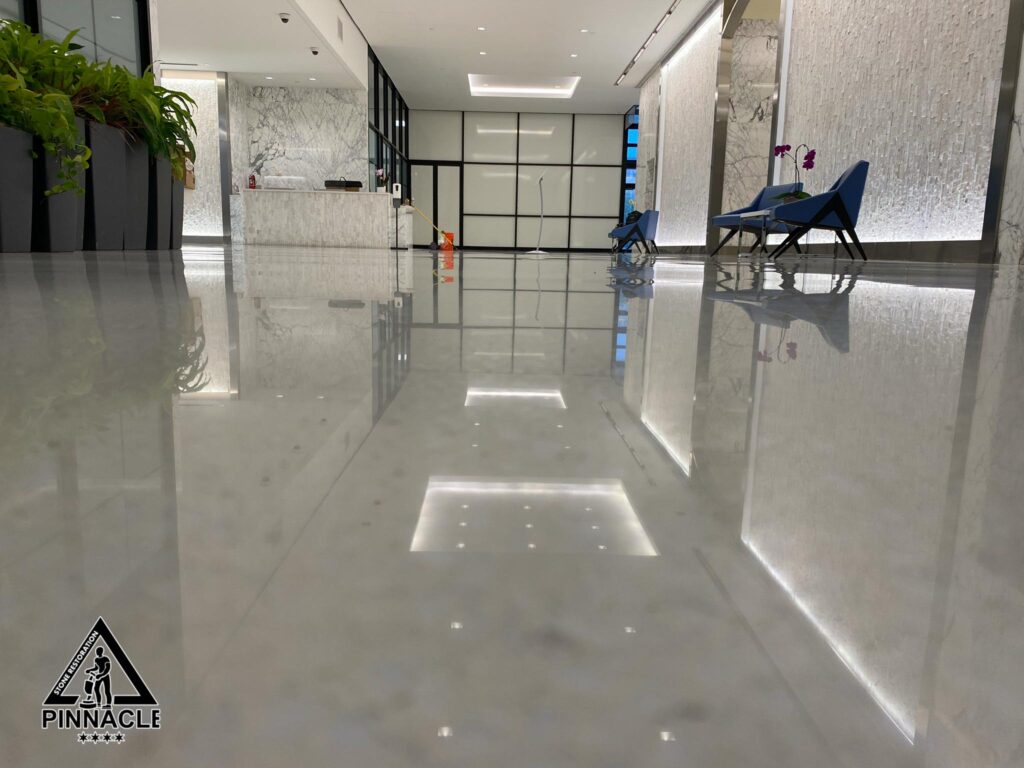 After some period of time when terrazzo is in a need of maintenance and re-coating, reasonable concerns and questions are rising.
Is this the best solution to finish terrazzo? Why go alternative route in terrazzo refinishing?
The alternative is diamond polished system for terrazzo floors. The steps that were left out at the beginning of process become an option to consider.
An artificial reflectivity of the surface has to be stripped off and mechanically polished sheen has to be achieved with multiple steps of diamond grit polishing process.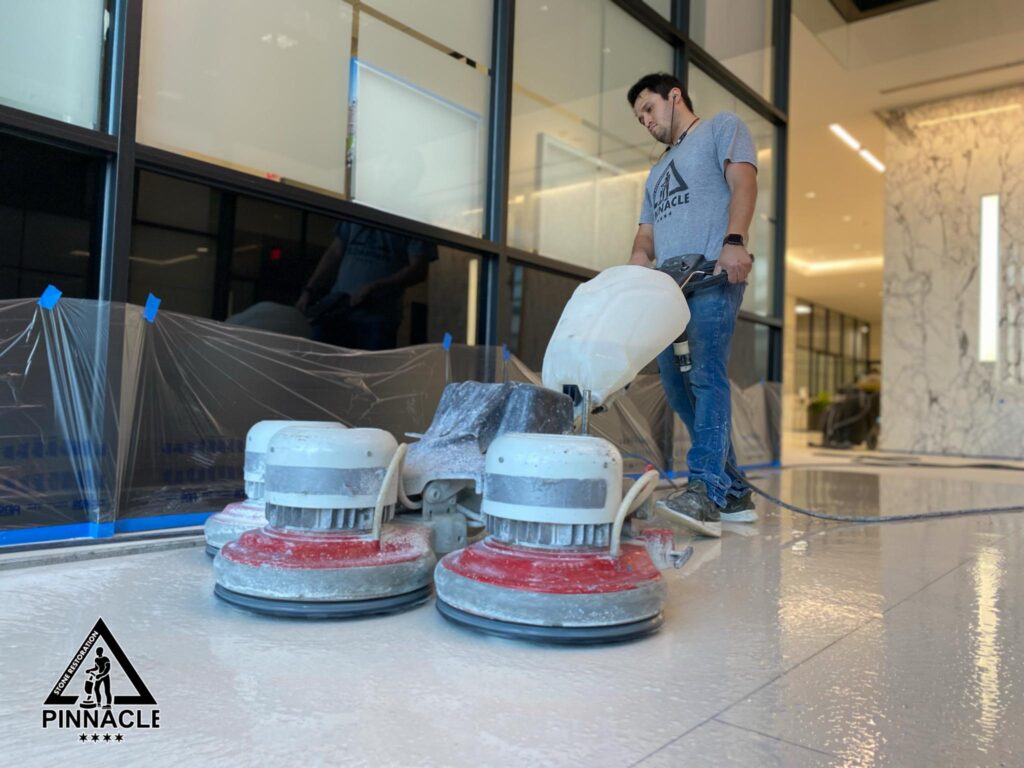 Terrazzo refinishing - pinholes
Quite often terrazzo floors develop many pinholes in most areas with a heavy traffic. Pinholes in terrazzo are the small holes that look like black dots. They are caused by air which has been absorbed when terrazzo is in mixing process during installation. Over the years dirt gets deposited to those pinholes and appears to look like small black dots particularly on light colored terrazzo.
When this is the case we usually do grouting of the entire terrazzo surface in order to fill all the pinholes and give terrazzo a fresh brand-new look. We let the grout cure overnight and then we remove excess grout the next day and continue grinding, honing, and then polishing terrazzo.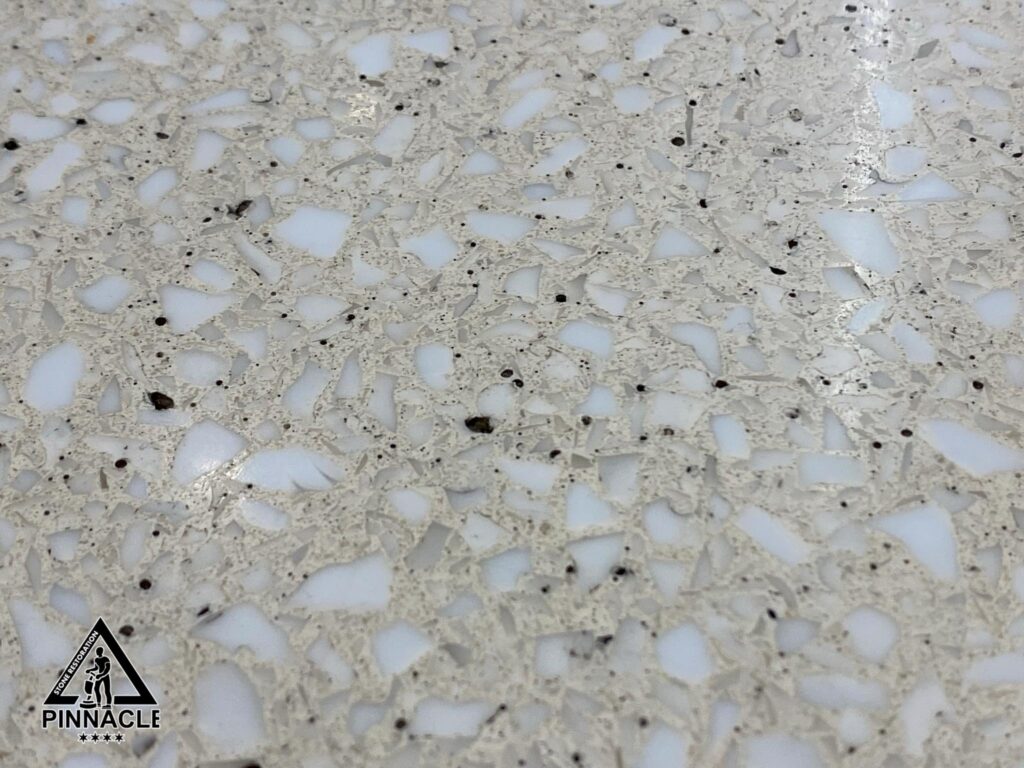 What is the secret of diamond polished terrazzo surface being so reflective?
Diamond polished system is a fully mechanical process of various grits of diamond pads getting into very close contact with working surface creating a high friction and resistance.
This methodology closes the pores of terrazzo and makes it microscopically flat to the point that light beams are no longer able to penetrate into the surface and are reflected by its absolute flatness and density.
The condition and description of diamond polished terrazzo is equally identical of mirror or glass like surfaces and similar to their performances.
Pinnacle Stone Restoration steps of mechanical diamond refinishing process of terrazzo floor include (but not limited to):
Terrazzo stripping/Removing terrazzo coating
Grinding with 50 grit copper pads
Grinding with 100 grit level
Grinding with 200 grit level
Grouting terrazzo to fill pinholes (optional, depends on project)
Excess grout removal
Terrazzo densification (optional, depends on project)
400 grit resin diamond pads
800 grit level
1500 grit level
3000 grit level
Terrazzo sealing
Terrazzo burnishing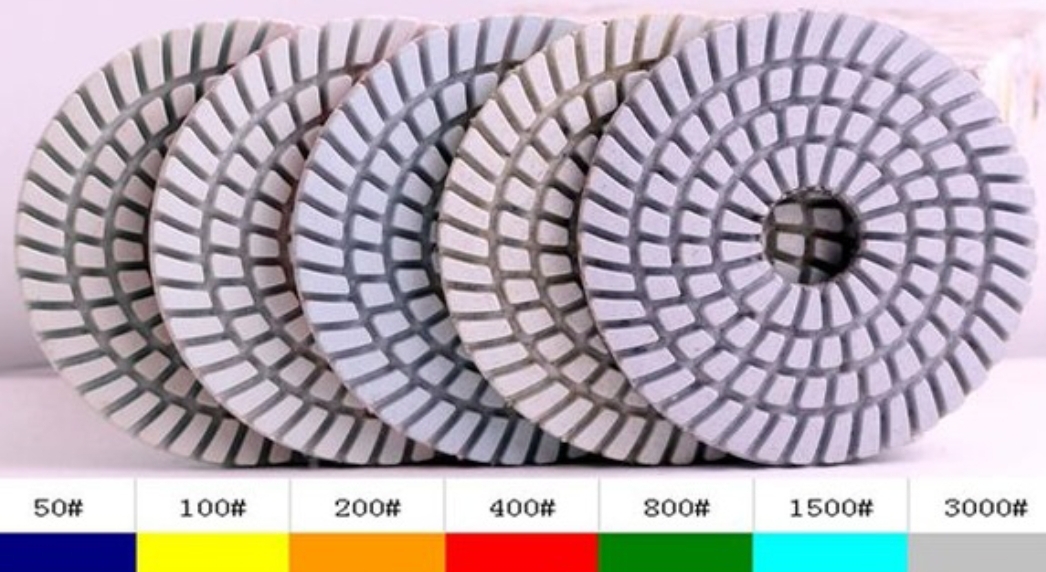 What are the benefits of diamond polished terrazzo floors?
Appearance, durability, longevity, and low maintenance are the main benefits of diamond polished terrazzo floors.
Terrazzo Appearance
True image reflectivity with clarity and depth reveal full visual potential and effectiveness of terrazzo surface.
Terrazzo Durability
Diamond polishing process increases density of terrazzo which automatically leads to harder and durable surface with ability of resisting
Terrazzo low maintenance
When terrazzo is refinished using mechanical diamond polishing process it is it is not only achieving an incredible look with high sheen but will bring the performance of terrazzo to a higher level and make maintenance much easier.
Here are some examples of projects we have recently done on terrazzo using mechanical diamond polishing techniques
---
---
---
If you have a residential or commercial terrazzo that needs restoration or repair in Chicagoland area call or text (630) 379-7362 to schedule a FREE estimate today.