The project we are going to showcase involves a resin-based terrazzo restoration in a very contemporary style building.
This terrazzo floor is pretty young, about 5 or more years since its original installation. However, this terrazzo floor has never had diamond refinishing.
When terrazzo is installed, it gets poured and later refinished up to 200 grit level and then terrazzo gets coated by wax or certain acrylic sealers.
Over the years those acrylic sealers get faded, discolored, and much more visibly worn than a mechanically diamond polished terrazzo.
Terrazzo floor in this project originally had a white color, but with heavy traffic, significant wear and tear, different coatings, and UV rays from sun exposure, terrazzo became discolored to a something between tan a yellowish color.
BEFORE
TERRAZZO PINHOLES
This terrazzo floor has developed numerous pinholes in different heavy traffic areas. Pinholes in terrazzo are the small holes, in our case they look like black dots, caused by air which has been absorbed during terrazzo mixing process.
Over the years dirt gets deposited to those pinholes and appears to look like small black dots on white terrazzo.
TERRAZZO GRINDING
Terrazzo floor has many scratches and scuff marks. It also lacks high resolution reflection that we can achieve during mechanical diamond polishing, because it has never been refinished before.
We begin the process by using heavy duty grinder which has about 800 lbs. of tool pressure. That is enough to remove the coating and flatten terrazzo.
The portable generator runs our 220 volts heavy duty floor grinder.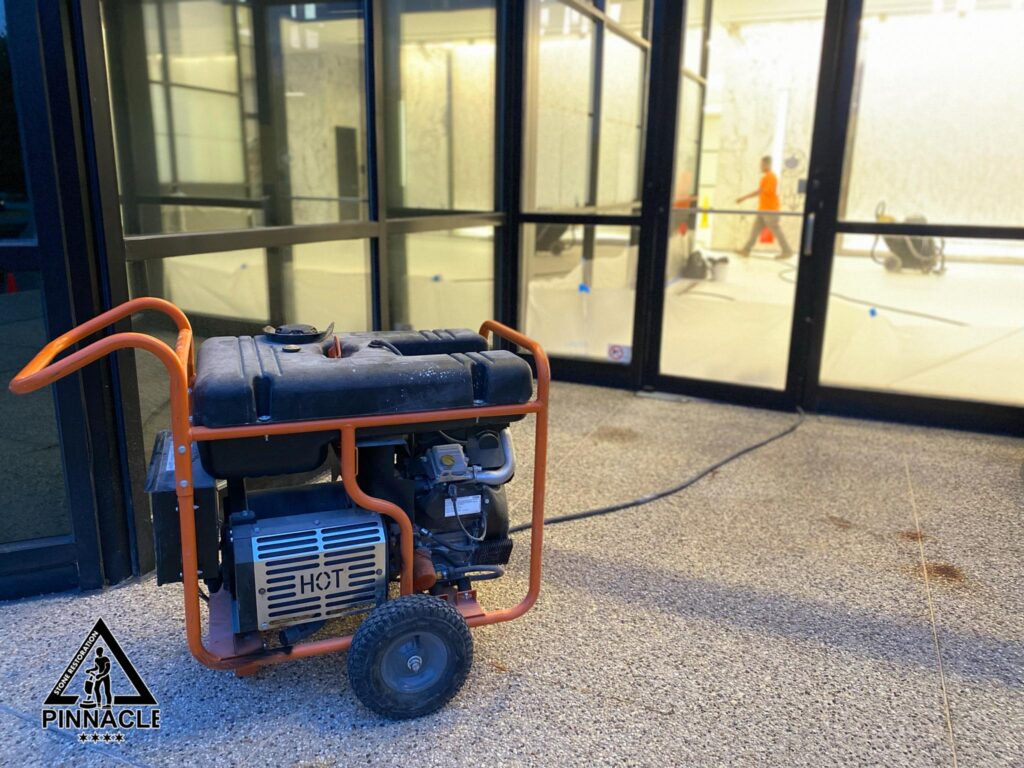 After this step we thoroughly inspect terrazzo surface to make sure we covered the whole area and the set face is ready for next grit level grinding.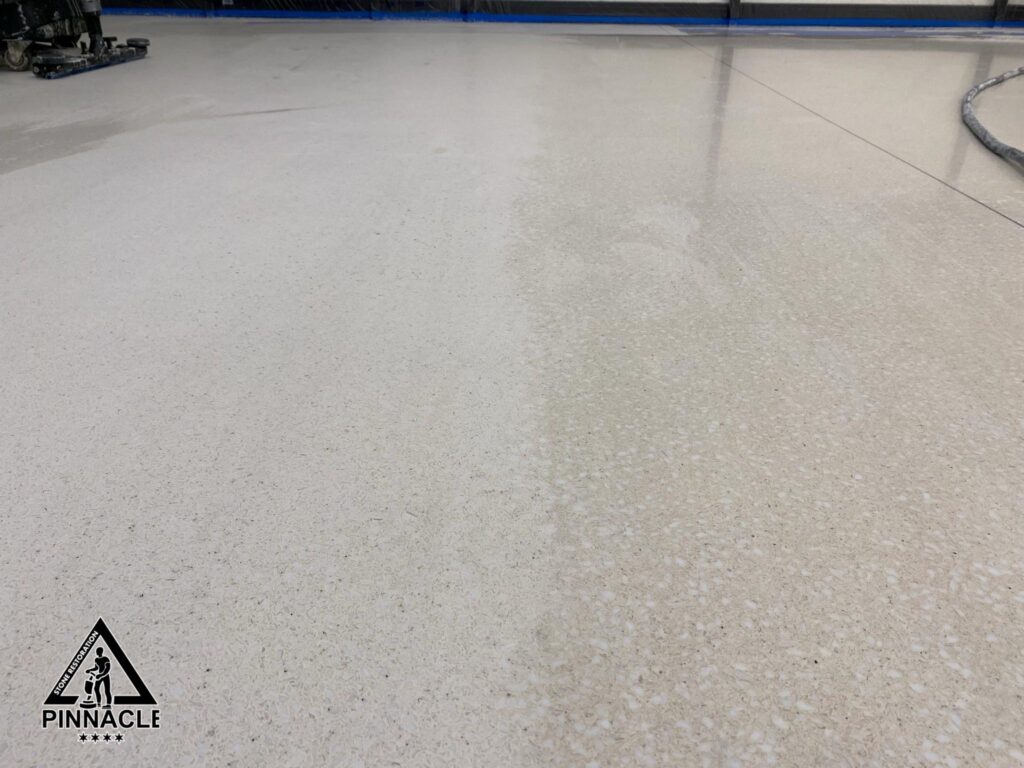 At the end of each workday we finish with thorough cleaning of the floor by using floor cleaning machine so in the morning the floor is safely accessed by the public and people who work here.
We continue with 100 and then follow by 200 grit levels in our mechanical diamond refinishing process.
TERRAZZO GROUTING
Next up is grouting terrazzo. We need to grout the entire surface of terrazzo floor to ensure we fill all the pinholes.
We use a special tool for grouting which gets attached to floor machine and does a better job combined with grouting by hand as well as saving much time for grouting process
After the application is complete, we let the grouting material to cure overnight.
Next step is removing the excess grout. This floor monster machine works for 3.
After this you will start seeing the increased reflectivity of terrazzo surface.
TERRAZZO RESTORATION OF EDGES
We work on edges by hand and by using a special machine for edge work.
We continue with 400 and then 800 grit levels of resin diamond pads. This is the step where you begin to see the true shine of the terrazzo.
TERRAZZO POLISHING
Next steps 1500 and then 3000 grit levels will increase the shine to maximal possible at this point of process.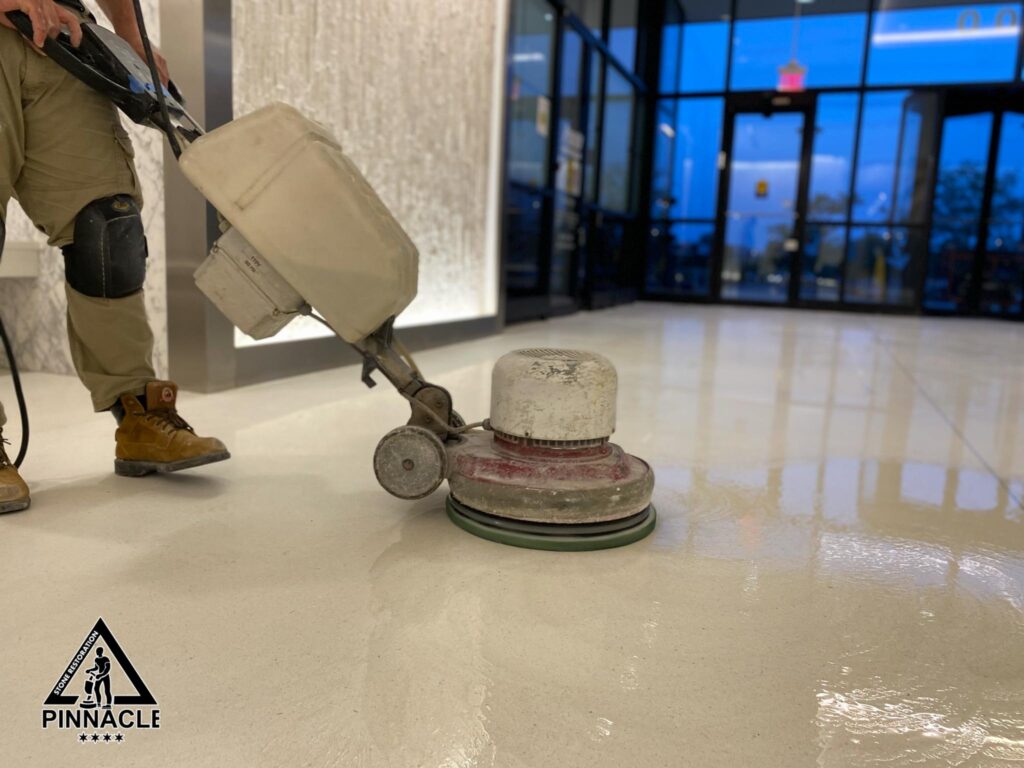 TERRAZZO SEALING
As we finish the refinishing process we apply micro topping protective sealer that will be burnished afterwards.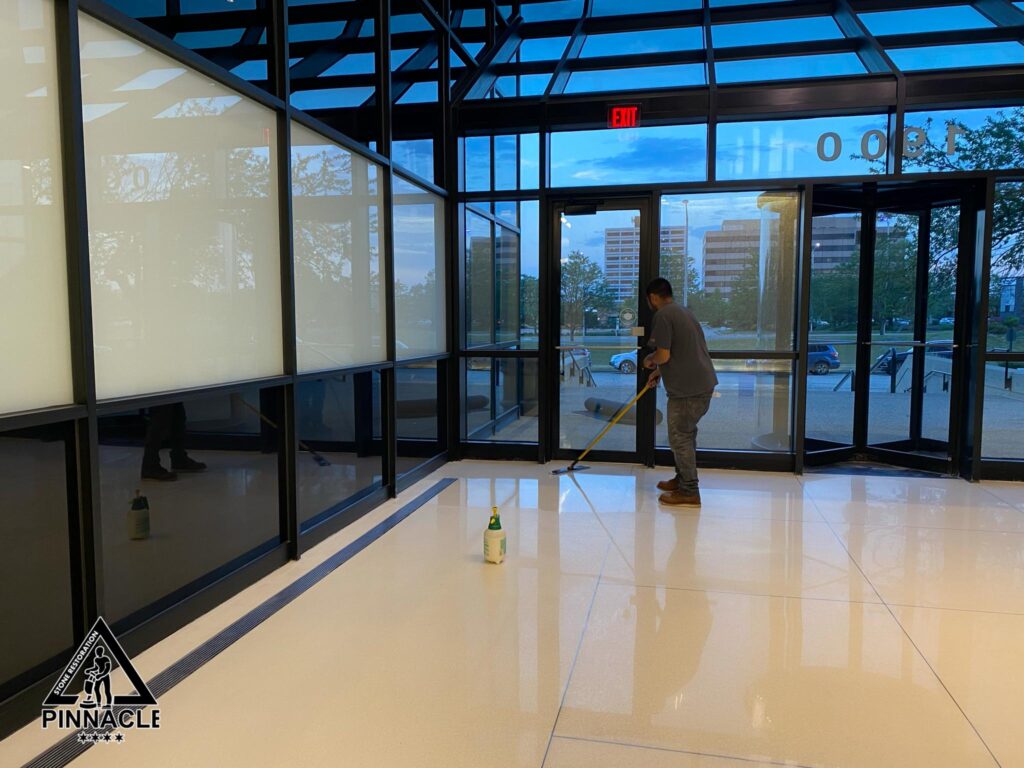 TERRAZZO BURNISHING
Burnishing process helps us infuse the sealer into terrazzo surface.
What are we trying to achieve with mechanical diamond polishing? Why do we advise diamond polishing versus regular process of grinding till 200 grit level and then using acrylic coating or wax on terrazzo?
It's all because of how terrazzo will perform, because of it's true potential and natural beauty that can be achieved only through mechanical diamond polishing process.
After the mechanical diamond polishing process is complete terrazzo is going to look like a "real deal", besides the performance will change to better and maintenance will be much easier.
Terrazzo is the most expansive floor system, but unfortunately, when it's mistreated, it looks like a $2 vinyl floor and makes no sense to waste it's true potential.
Our goal is to have terrazzo floor represent its status of expansive floor, show its true beauty, and increase its performance, durability and ease of maintenance.
RESULTS
BEFORE AND AFTER TERRAZZO RESTORATION
If you have a residential or commercial terrazzo that needs restoration  or repair in Chicagoland area call or text (630) 379-7362 to schedule a FREE estimate today.