Terrazzo might be over several hundred years old from its origination, but the modern look, intricate designs, and high durability make popularity of this floor type boom nowadays.
Beautiful, mosaic-like appeal exposes chips of highly polished marble, quartz, granite, glass, shell, or other aggregates. The design possibility of terrazzo can go to the limits of wherever your imagination can take you.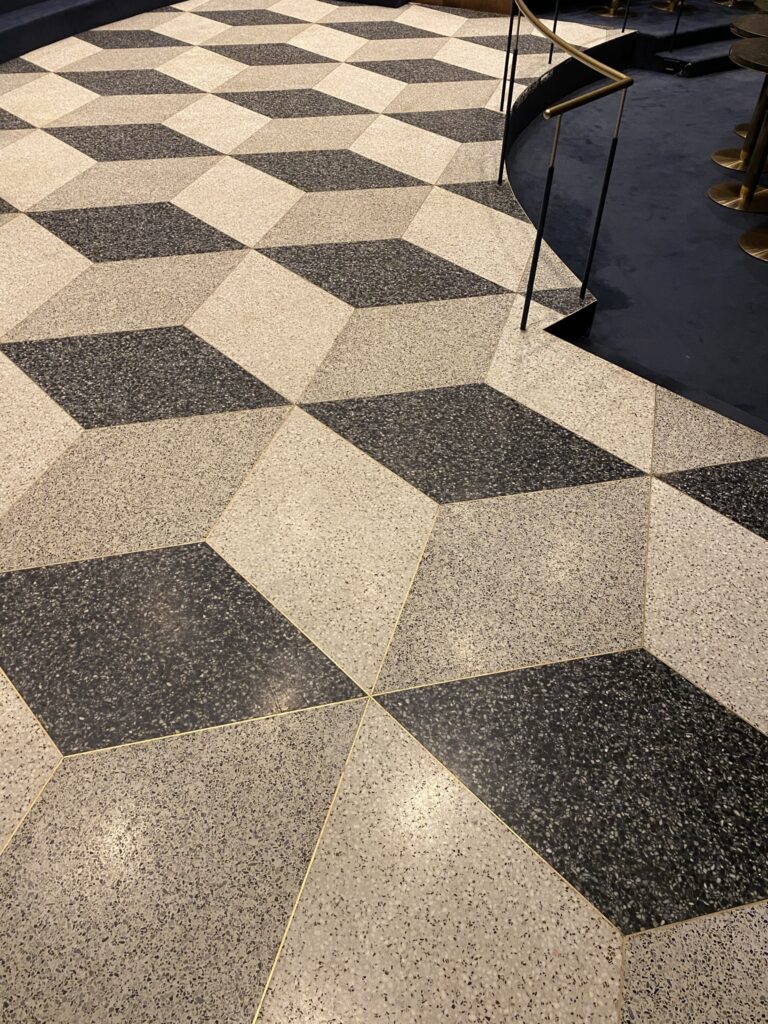 One of our terrazzo restoration projects was one of these beautiful bold designs. We had a pleasure restoring terrazzo floors at the Chicago Magic Lounge.
The terrazzo floor installation was done by Menconi Terrazzo. They have done an outstanding job on the design and installation of this terrazzo. It was a winner of 2019 NTMA Honor Award.
According to The National Terrazzo and Mosaic Association, Inc this terrazzo floor was installed during a major makeover of a 90-year-old building. They brilliantly incorporated the design with the architecture in this welcoming space.
The 3D stacked block design along with elegant colors and brass divider strips give this remarkable touch and feel to the 1920s blind tiger vibe in this Magic Lounge that has been devoted to illusionists and magicians.
We were given a task of restoring this terrazzo to its original look and sheen since it has gotten lots of wear and tear over the years of heavy traffic.
We completed restoration and mechanical diamond polishing the floor using the most powerful single disc floor grinding/polishing machine for heavy duty applications along with different grit levels of diamond pads. We proceeded with a series of numerous steps of gradually finer grit diamond pads up until the ideal finish was reached.
As the last step of the terrazzo restoration process, we apply sealer in accordance with manufacturer's directions. These low maintenance and long-lasting exquisite terrazzo floors will be pleasing the eyes of patrons of this establishment for years to come.
Call or text (630) 379-7362 to schedule a FREE estimate today.