Quartzite countertops are some of the most popular choices these days. Quartzite is a really hard metamorphic rock. Quartzite is ideal for any type of countertop; it is slightly harder than granite and is extremely durable.
In the project that we showcase in this blog, quartzite countertop had multiple smaller cracks and one large crack that was going all the way through the slab.
---
We exaggerate the cracks to clean them and make enough room for epoxy filler to achieve proper bonding with quartzite.
---
We mix epoxy filler with quartzite matched colors to achieve the optimal color match of quartzite countertop.
We add hardener to epoxy filler and then mix it really well
We fill the cracks with epoxy filler by using a blade. We let it cure for some time.
---
When epoxy is cured, we cut quartzite in the repaired area.
We use diamond pads on handheld machine from grit level 100 all the way to 3000.
We use wet mechanical diamond polishing technique which is a dustless method with the high gloss results.
---
Quartzite countertop polishing
We finish polishing quartzite with specially formulated stone polishing compound which is ideal for achieving a shiny factory-like polish.
---
We smoothen the seam of a broken corner that was glued back to the counter.
We use the same steps as in the previously described cutting and polishing quartzite of repaired crack area.
---
Quartzite countertop deep cleaning and buffing
We deep clean and buff the entire surface of quartzite countertop.
---
Quartzite countertop sealing
The final step of our project is sealing. We apply sealer with the cloth and then wipe out the excess sealer with paper towels.
---
We spray some water to test the recently applied sealer to show you the difference.
You can see that water drops stay on top of the surface because now sealer protects the stone and doesn't let water penetrate into stone's pores.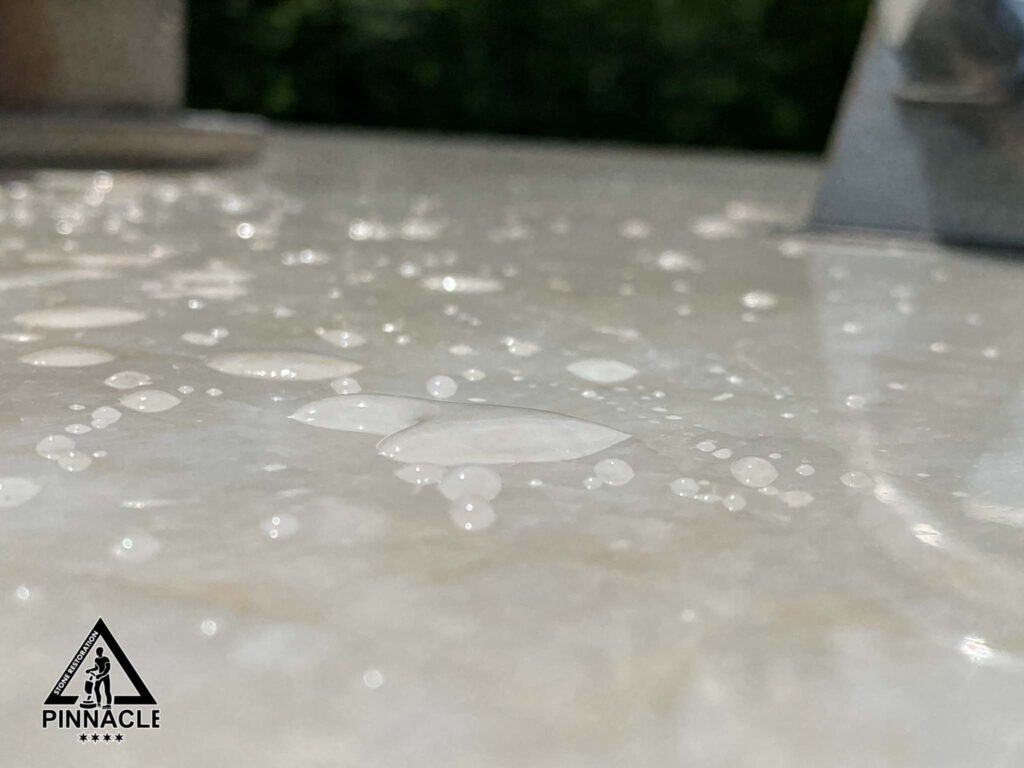 Frequent sealing protects the surface of the stone for long-lasting beauty of your countertops.
We recommend re-sealing quartzite countertops one or two times per year depending on usage and the type of quartzite you have.
---
RESULTS