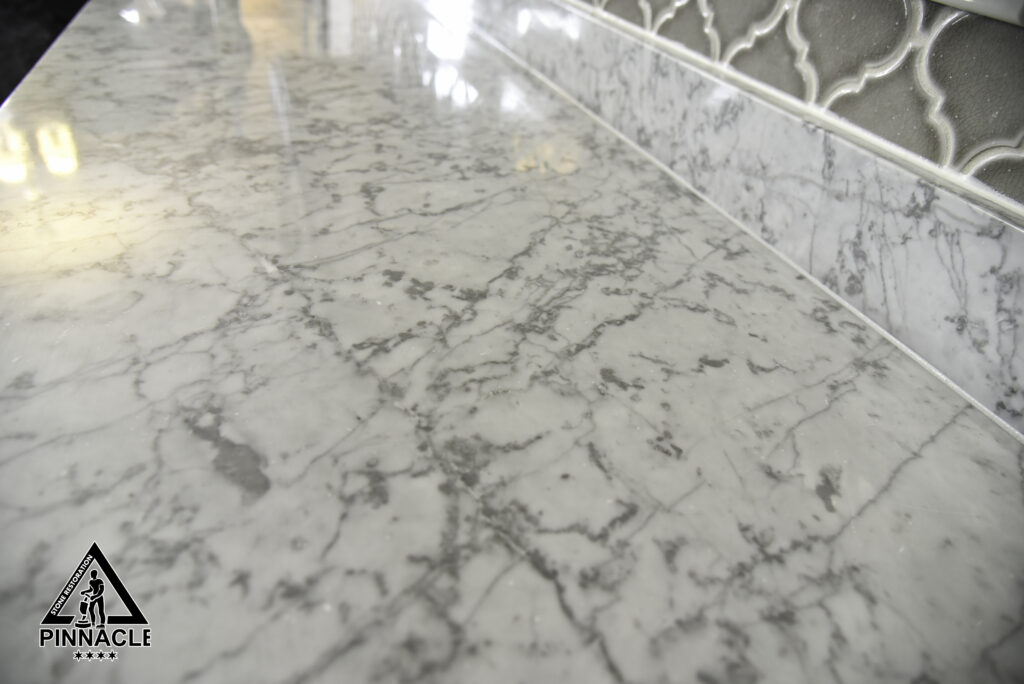 How to take care of white marble countertop? – Maintenance and restoration tips.
Who doesn't like that luxurious clean look of white marble countertops in a stylish kitchen?!
Whether it is Carrara, Calacatta, Statuary, Thassos, or other species, white marble is king of elegance – stone that comes with its cost. The flaws of white marble are usually more visible than others.
However, when white marble countertops are properly cared for and get regular maintenance they will stay in top-shape and preserve their gorgeous looks for an exceptionally long time.
We would like to share with you some tips and information about white marble countertops that you might find quite helpful.
---
White marble countertop finish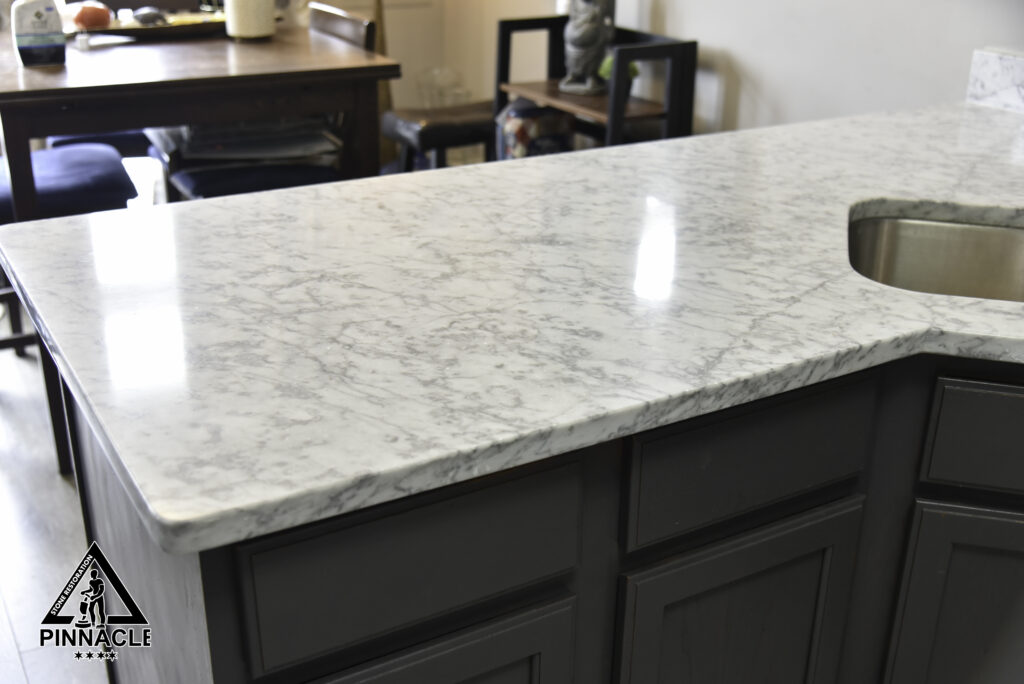 As natural stone experts, we can completely transform the look and feel of your white marble countertops by diamond polishing and honing techniques to achieve different stone finishes.
Marble surface can be refinished with a slick looking glass-like polish. It can be honed to showcase matte, consistent, smooth look and velvet-like touch. It could also be brushed or leather finish, which are attractive but less popular options.
If you are concerned about white marble etching than honed might be the finish of your preference. Etching most likely shown as the dull white rings or other dull spots, while on honed (already dull) marble surface they simply would not be as visible compared to polished glossy finish.
Honed finish will prevent the high visibility of smudges and fingerprints that can be easily seen on mirror like polished marble finish.
Glossy, polished finish helps the marble pores to be sealed therefore it becomes more resistant to deep stains compared to honed finish.
As you can see depending on your stone finish preference, the maintenance would be slightly different.
---
Regular Maintenance of White Marble Countertop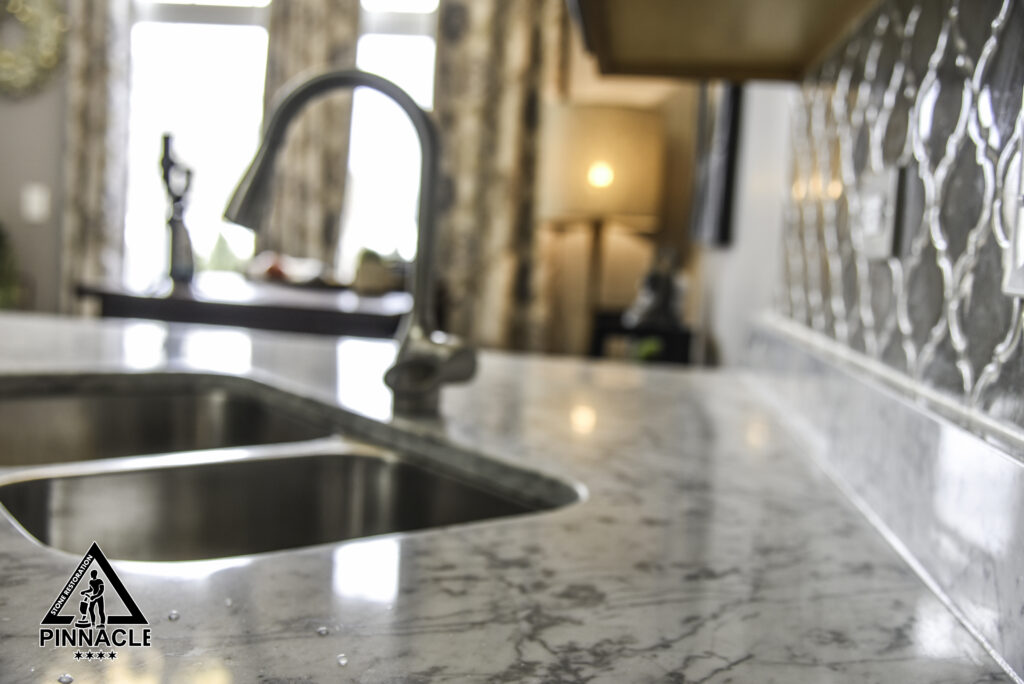 The longevity of a healthy gorgeous looking white marble countertop directly depends on a regular maintenance and care.
You should not let wet cups, dishes or any water stay on marble surface for a prolonged period of time. Wipe it up right away with a damp soft cloth. Use coasters for cups and glasses and placemats for dishes. Protect marble from hot pans and pots with a trivet.
Avoid using abrasive or highly acidic cleaners on your white marble. White vinegar cleaning is not recommended. Only use pH-neutral cleaner that is tailored for stone.
We do not recommend using oil based/solvents-based sealers on white marble countertops.
Regular sealing of your white marble countertops is a must to protect this delicate stone. The frequency depends on your marble manufacturer or stone expert's recommendation.
---
Effects of acids on white marble countertops and how to clean safer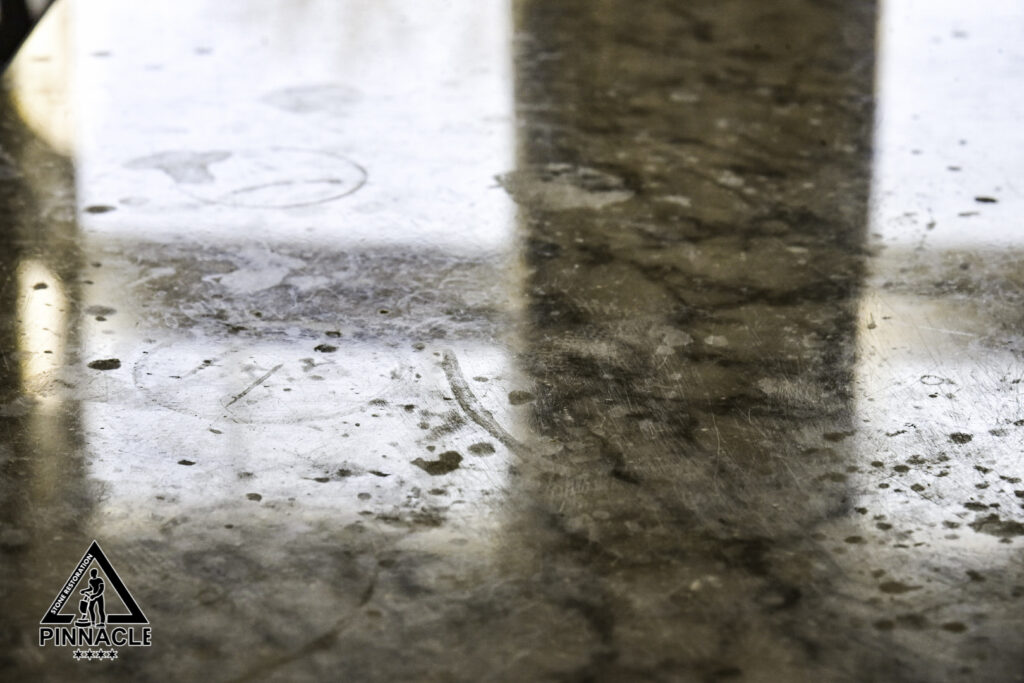 This elegant white stone is known for its calcium richness. That is the reason white marble easily reacts with any acid and may develop etching. You should always be cautious while using highly acidic liquids and products on white marble countertops.
The ideal cleaner for marble that we recommend is a non-abrasive stone cleaner with a neutral pH (non-acidic). The best is if you buy a cleaner that is specifically designed to clean marble stone or if it mentions that it is "safe to use on marble".
---
Oil-based liquids on marble countertops
Marble is like a sponge. It is a highly porous stone. If you leave oil-based liquids on the surface for a while it will absorb the liquid and may cause bleeding through the stone.
Oil based liquids do not evaporate easily by itself and they mat stay for a long period of time or perhaps permanently. Any time bleeding happens on the white marble it stays quite noticeable.
In case if this issue happens, the solution we recommend is to apply indirect high heat to the affected area. It will speed up the evaporation process. Each stone is not like other, they have different densities and characteristics.
Certain marble countertops might react differently to high heat in this solution. Direct high heat may crack the marble. Cooling down process must be slow. Natural/not forced cooling is recommended.
We do not recommend you do it yourself. You should consult with natural stone professionals and schedule stone expert to perform this or other solution to remove those deep stain patches caused by oil-based liquids.
---
White Marble Countertop Chips
White marble stone is usually brittle. When handling heavy pots and pans around your countertop be aware of the chips they may cause if they hit the countertop edges.
It is good if in case of larger pies breaking off from the countertop you save it. This way the stone experts will be able to reattach it and restore almost to the original look or your countertop. For small chips we would use a special compound to restore the edge and fix that chip.
---
When to consider restoration/refinishing of white marble countertops?
In some regions water contains high content of sulfur, copper, or iron, which from time to time will damage or stain white marble countertop. In this case simple cleaning will do nothing. The only solution is to refinish marble countertop.
When your white marble countertops develop multiple deep scratched the only solution for it is to be refinished by professionals.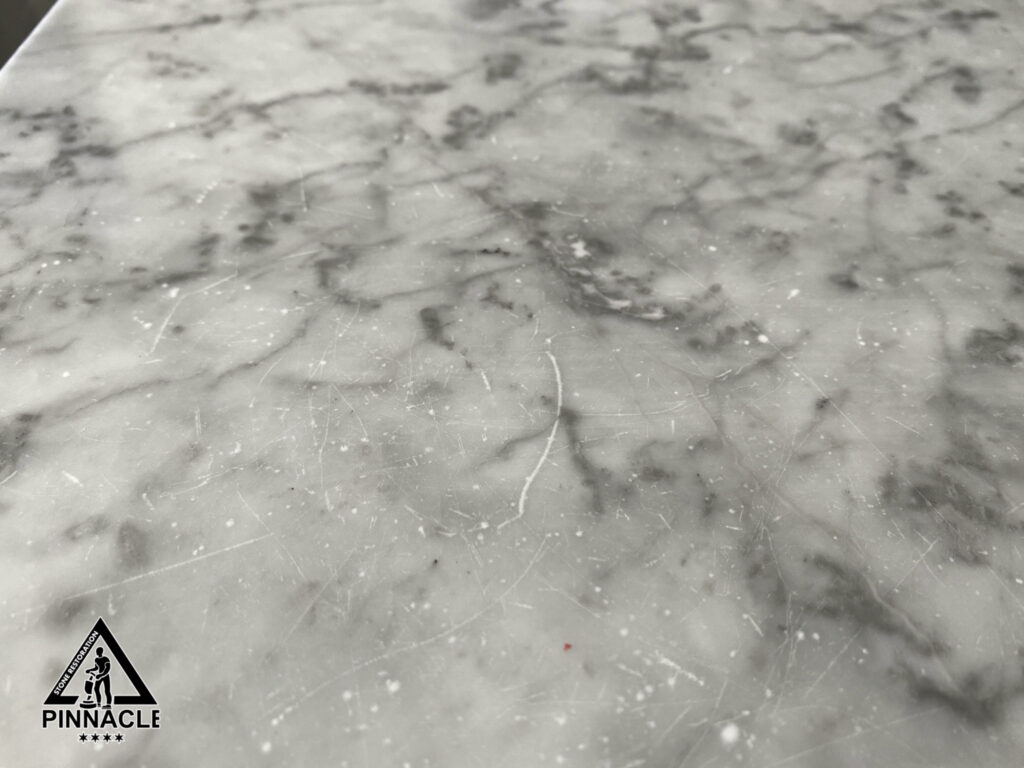 We would like to provide you with a good example of white marble countertop that had the condition for which the only solution was to professionally refinish it.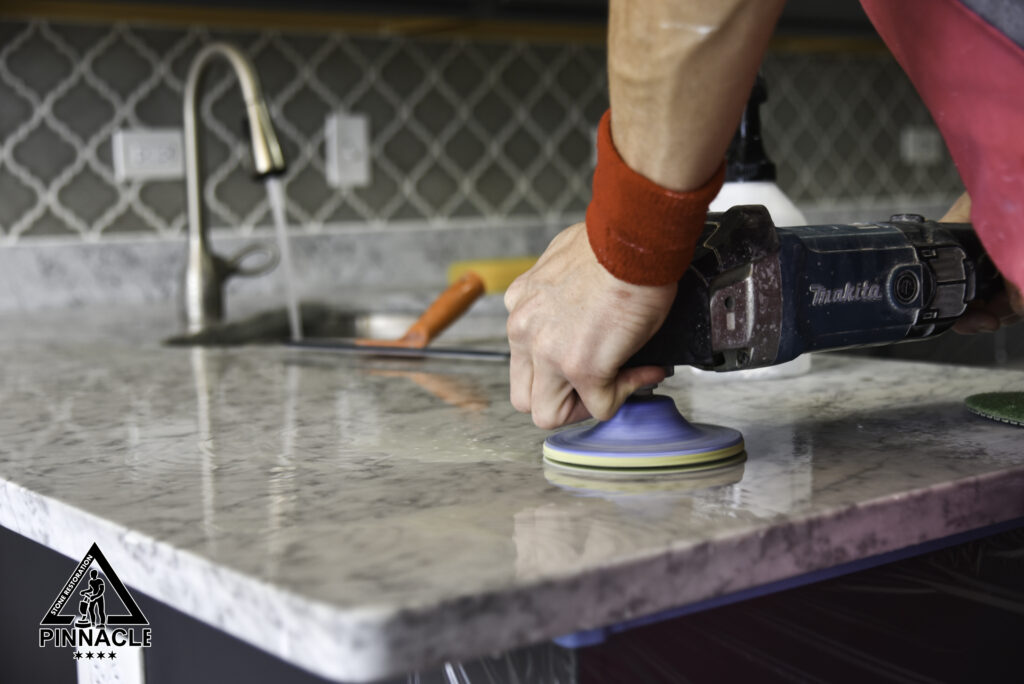 In this example, our client's white marble countertop has been heavily used and developed numerous etch marks, deep scratches, dullness and caulking that must be renewed.
We restored white marble countertops using mechanical diamond honing and polishing techniques.
We used different grit levels of diamond impregnated pads to remove etch marks, deep scratches, and other flaws.
We continued with a series of several steps of gradually finer grit diamond pads up until the ideal finish was achieved.
We cleaned marble, and as the last step of marble restoration process, we applied a special natural stone sealer to prevent marble from etching and staining.
We used flexible diamond pads to restore the countertop edges around the sink.
We used a special stone polishing compound that is designed to deliver the glass-like finish on stone surfaces. Our client was very satisfied with the results.
If you are in a need of a marble or granite countertop restoration, please call or text (630) 379-7362 to schedule a FREE estimate today.