When cared for properly marble tile floor will last you for generations. In case when you reach the level of your tiles looking unhealthy with scratches, etch marks, dullness, and crack - it is time to make some decisions.
Should you re-install a new marble tile floor, or should you restore the old one?
In most cases your old marble floor should be salvageable. The natural stone professionals such as Pinnacle Stone Restoration, would be able to restore your marble tile floor to the desired finish or even a brand-new look.
Unless you've got severe damage to number of tiles and can not replace them with the similar character/pattern of marble, you most likely will benefit from restoring your marble with a professional stone restoration company.
Buying new marble flooring along with an expert installation would definitely hit your wallet heavily. On the other hand, restoring or refinishing your marble tile floor will cost you only a small fraction of that price.
The decision of re-installing a new marble floor depends on the severity of your current floor damage, if you have tiles that you can't match with any other designs, or if you are already tired of the old look/pattern you've had for many years.
We would like to show you an example of a 25-year-old marble tile floor which we recently restored for our customer.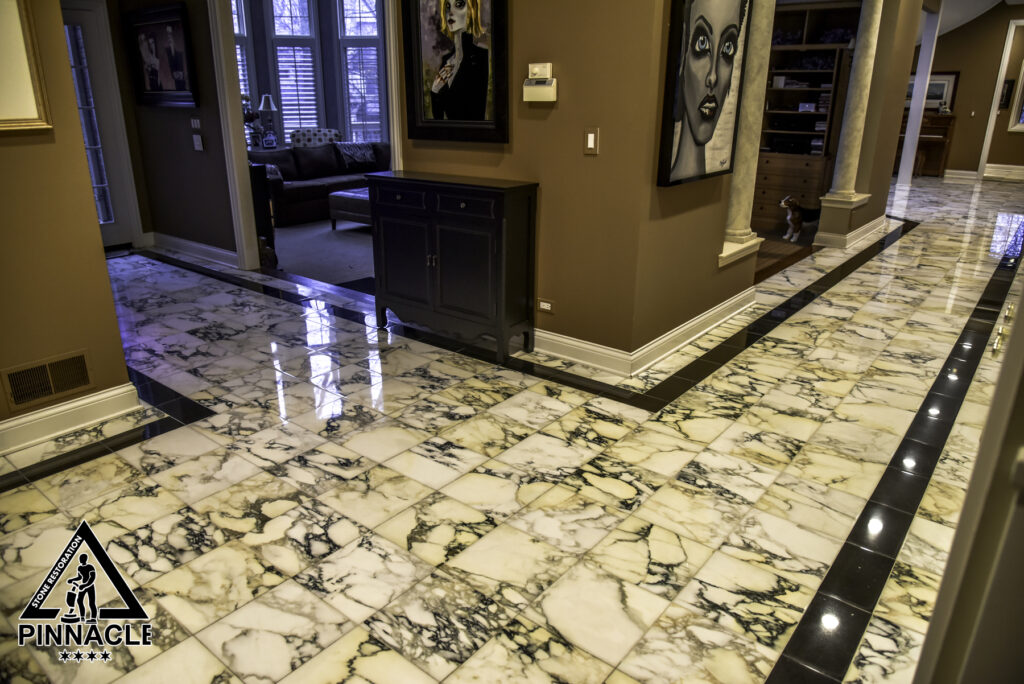 Not only this transformation left our customer in awe from the results, but also brought some beautiful memories back from some 25 years ago when that floor was initially installed and had that same glossy new look.
---
MARBLE TILE FLOOR RESTORATION
In this project, marble tile floor has to be renewed through restoration to eliminate dullness, extensive wear and tear, repair cracks, and to remove scratches and etch marks.
We polish marble tiles by using a floor grinding/polishing machine and different grits of diamond abrasive pads.
We begin the restoration process with 200 grit level diamond pads to remove marble scratches, etch marks, and to get rid of dullness from high traffic.
We quickly collect excess water with a wet vacuum system.
With changing different grit levels of diamond pads, we gradually achieve smoother finish of marble tile floor.
We use finer grit diamond impregnated pads up until the desired level of marble gloss is achieved.
We use alkaline cleaner to clean the grout with a floor cleaning machine and by hand to ensure the quality of the results.
We use stone polishing compound to achieve the final high gloss finish of marble tile floor.
As the last step of marble tile floor restoration, we apply a special natural stone sealer using a floor machine.
After almost 25 years of usage this marble tiles got a fresh like-new look to last for so much longer.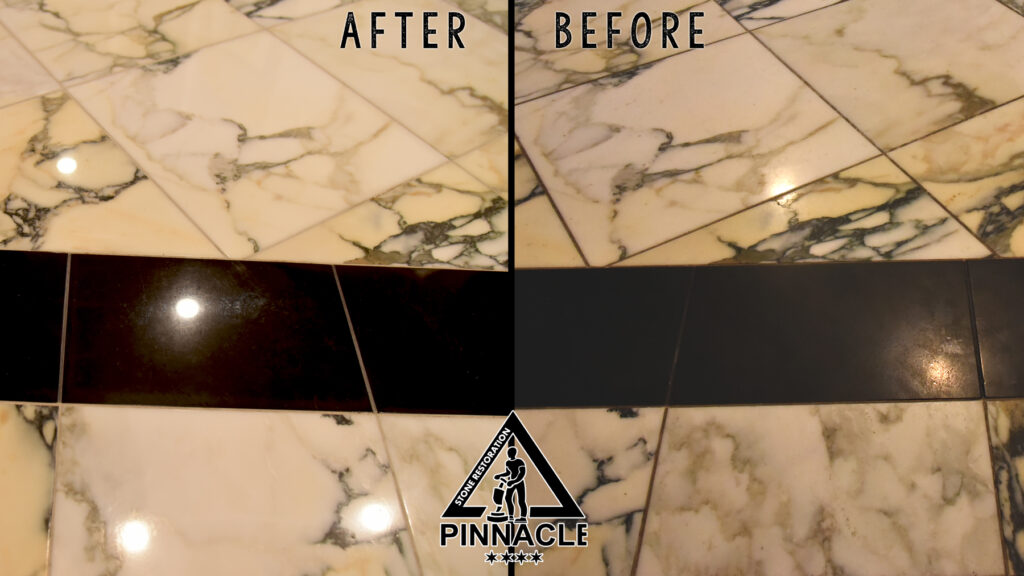 For more info visit www.pinnaclestonecare.com Call or text (630) 379-7362 to schedule a FREE estimate today.