---
HISTORIC TERRAZZO FLOOR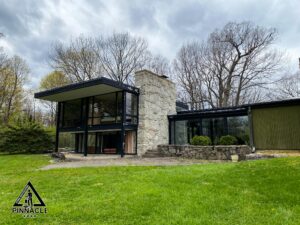 This beautiful home is like in a time capsule. The house was built in 1956. It was designed by Edward D. Dart who was a Mid-Century modern American architect.
One of Chicago's most recognized architects, Dart became a Fellow of the American Institute of Architects at the age of 44 and got 18 AIA awards.
We'd like to mention that between 1949 and 1968 Dart designed 52 custom houses, 26 custom churches and numerous commercial structures. Dart's notable buildings include:
St. Augustine's Episcopal Church, Gary, Indiana, 1958
St. Procopius Abbey and Monastery, Lisle, Illinois, 1967
Norris University Center at Northwestern University, 1971
Pick-Staiger Concert Hall at Northwestern University, 1975
Water Tower Place on Chicago's Magnificent Mile, 1975
References: Edward D. Dart Wikipedia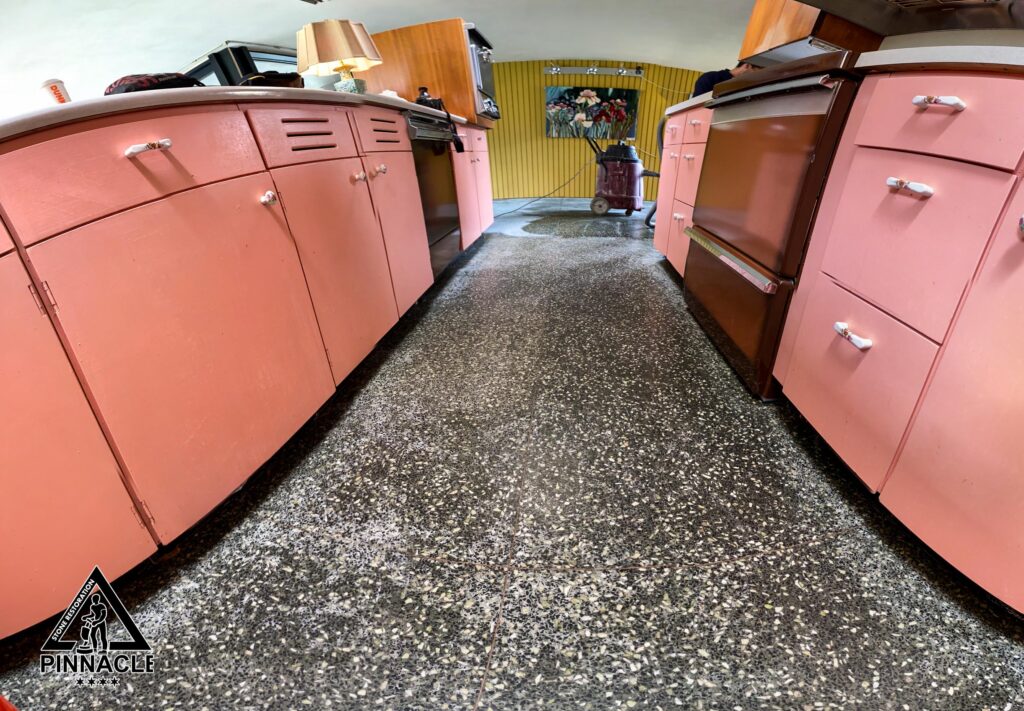 Terrazzo floors, which we had privilege to restore, was the original design by this renowned architect, and they haven't been touched (restored) since the original installation.
This historic house is about to go on market for sale and by restoring terrazzo to its original look the house definitely gained some more value, appeal and hopefully it will bring much joy to its new owners.
This concrete-based terrazzo floor had severe wear & tear, washed terrazzo with raised aggregates, dullness, holes and gaps, discoloration, brass divider strips had blue staining because of copper presence.
WASHED TERRAZZO WITH RAISED AGGREGATES
Washed terrazzo has low spots where you can see uneven terrazzo with raised aggregates.
The ideal result is for us to achieve an even surface of terrazzo where the matrix and aggregates are at the same level and have a smooth finish.
We start grinding process with 50 grit diamond pads. Then we continue to even up the surface with 100 grit diamond pads.
BRASS DIVIDER STRIPS
Besides main character of terrazzo, its aggregates, terrazzo may also feature another key element of its style and appeal, such as brass or other metal divider strips.
Divider strips vary in materials, colors, and sizes. They are usually installed on the floor by terrazzo installers before they pour the terrazzo.
With its help designers and architects can assemble intricate designs, patterns, custom designs and much more.
Terrazzo divider strips help establish a pattern, certain design and most often used to separate different terrazzo colors.
In this project terrazzo has brass divider strips. This type is a high-end premium material for divider strips, but it comes with some minuses as well.
Caused by presence of copper, brass divider strips may develop bluing effect (blue staining on or around divider strips).
EPOXY GROUTING
Pinholes are common in terrazzo finishes. Pinholes are caused by air that has been absorbed at the time of the terrazzo mixing process. If desired by customer, we typically fill terrazzo pinholes by grouting process.
We prepare epoxy grout and apply it as a thin layer throughout the whole terrazzo surface
We apply epoxy grout as a thin layer throughout entire terrazzo surface.
Whole terrazzo is covered with epoxy grout and left to cure overnight.
After grout cures, we use marble dust to help remove the excess of epoxy grout.
After excess grout is removed, we have to densify terrazzo with hardening agent. This will also help terrazzo to get much stronger.
TERRAZZO DENSIFICATION
Before densifying terrazzo, we thoroughly clean it.
Densification of terrazzo is important when terrazzo is reasonably porous and needs to become stronger.
The hardening agent we apply bonds all the elements of concrete terrazzo by growing a crystalline structure.
Densification increases terrazzo density and makes it tenacious so it can withstand abrasion a lot better and wear less.
Next, we continue grinding with 400 grit level diamond pads.
---
---
We grind all the edges by using a hand-held machine. We gradually change diamond pad levels to achieve desired smoothness and make terrazzo surface evened out.
---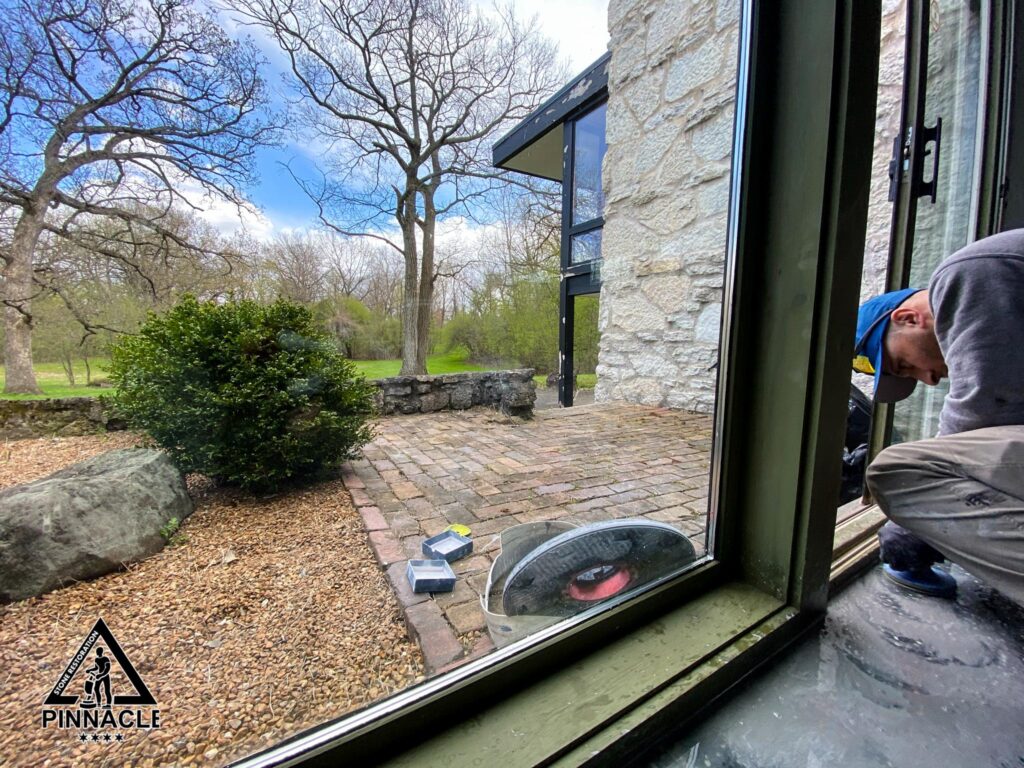 TERRAZZO POLISHING, SEALING, AND BURNISHING
We continue honing terrazzo with the following diamond grit levels:
400
800
1500
3000
We use the finest grit levels of D.I.P. (diamond impregnated pads) system to achieve highest gloss possible.
We grind, hone, and polish edges by hand-held machine separately. It is a very time-consuming process, but it has to be done precisely by going through different grit levels of diamond pads in order to achieve a uniformed look of terrazzo.
At the end of terrazzo restoration process, we apply two coats of a special stone sealer.
---
---
We burnish the terrazzo until the floor achieves a high-gloss finish.
---
The project is complete and our customer is extremely happy with the final results.

BEFORE AND AFTER
If you have a residential or commercial terrazzo that needs restoration or repair in Chicagoland area call or text (630) 379-7362 to schedule a FREE estimate today.