Marble will transform any bathroom to a state-of-the-art look. But unfortunately if not regularly maintained and cared for the marble in your shower will accumulate calcium deposits, stains, etch marks, hard water build up, minerals deposits and become dull with time.
Quite often when the home's water source is well water it might be a case a faster accumulation of mineral deposits on shower walls, surrounds, and base.
In this project we showcase today, crema marfil marble shower was in an urgent need of professional restoration.
The area where the house is located has well water that contains high levels of sulfur, copper, and iron. This is the reason this shower has high damage from mineral deposits.
We restore the marble surface by using mechanical diamond honing and polishing techniques.
---
We change different grit levels of diamond impregnated pads to remove mineral deposits, scratches, etching, dullness, and all other imperfections.
We deep cleaned and refinished shower walls, base, marble bench and mineral deposits around the fixtures.
We clean grout by hand using bristle brush and neutral Ph cleaner.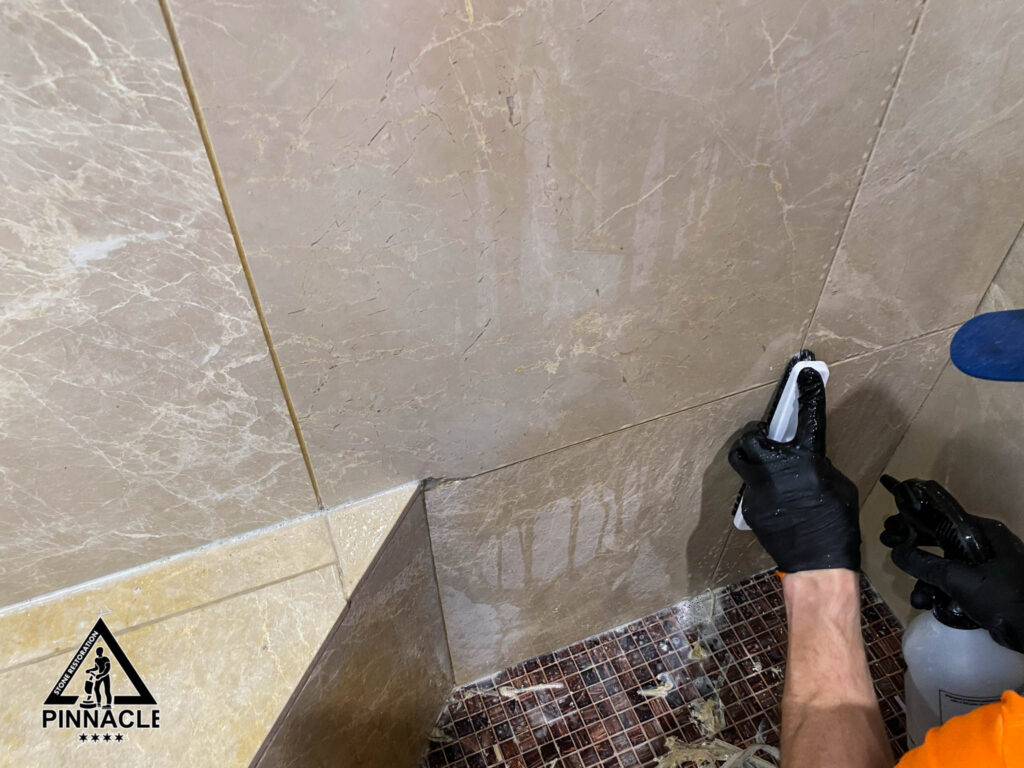 We remove old damaged silicon, and refresh the shower by applying new color matching caulking.
As the very last step we seal the marble shower surrounds to protect the stone and ensure its longevity.
---
Restoration of crema marfil marble bath surround. Just as the marble shower and the floor in this master bathroom the bath surround needed a restoration and a refreshed look.
It did not have as much damage to the stone as the shower did, but it showed some etch marks and dullness along with a silicon that needed replacement.

Our customer was highly satisfied with the final results.
If you are in a need of marble shower restoration or deep cleaning don't hesitate to call or text us at (630) 379-7362 to schedule a FREE estimate today.