Granite countertops and granite islands are the core of any kitchen. The stone may be indestructible but when you have a large family and lots of cooking to do to treat your numerous guests and family, granite countertops may get lots of wear and tear in less time than you'd expect.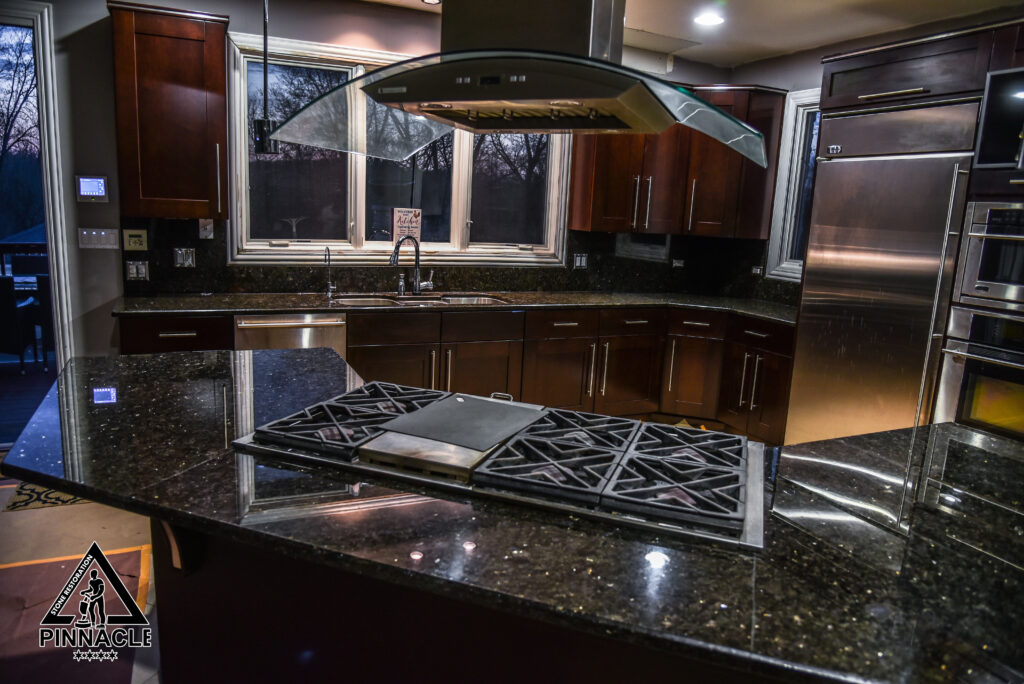 ---
Granite countertop chip repair
Granite kitchen island in this project had a severe damage throughout most of the edges of the granite countertop.
This beautiful home has a large happy family in it that hosts up to hundred people of extended family and guests on frequent occasions. When kids use bar stools at the kitchen island, they raise them quite high.
When raised that high, the metal bars of the stools keep bumping into the edges of granite top of the kitchen island. This created multiple large and small chips all around the granite island.
The task wasn't easy, but we nailed the problem with complete patching of all the chips and by creating a smooth continues finish of the granite top edges.
We patched all granite chips with epoxy filling that we color matched with the granite. After it cured, we continued with grinding it to achieve a solid surface without any bumps or chips.
We gradually change to finer grit levels to make the granite edges smooth and shiny like the rest of the granite countertops.
---
Granite countertop's sink bridge restoration
The sink bridge of this granite countertop had the heaviest wear and tear and severe dullness. To restore it we cut the stone by grinding and then polishing it with diamond impregnated pads.
---
Granite countertop deep cleaning, buffing, and sealing
We remove grim and stains from the granite surface. We remove old caulking and silicone from all countertops in the kitchen.
We use stone polishing compound with our buffing machine to ensure fantastic results and to achieve original sheen of the granite.
After deep cleaning and sealing we install new silicone for a fresh look of countertops.
---
If you are in a need of granite countertop restoration, chip repair, refinishing, deep cleaning and sealing don't hesitate to call or text us at (630) 379-7362 to schedule a FREE estimate today.