The cold Chicagoan winter is finally over, and it is time to get your natural stone outdoor countertops ready for a cookout season. Most homeowners likely have their backyards as the most popular spot for warm days of spring, summer, and fall. For that reason, a lot of families prefer to extend their living area outdoors and build some outdoor kitchen or cookout are. A key feature of any outdoor kitchen is the countertops.
There are numerous choices of natural stone for outdoor countertops, each has its own character, qualities, pros and cons.
Some of the most popular types of natural stone for outdoor countertops that we came across include the following:
Granite:
The most popular outdoor kitchen countertop stone is granite because it is remarkably durable, heat resistant, and scratch resistant. Granite is a unique strong stone that comes in variety of colors, designs, and finishes that are created by mother nature. Granite sets a high bar when it comes to outdoor countertop materials. It is resistant against heat (sun and hot pans and pots), stains, mold, mildew, and it is not fading under the sun exposure, but it might get hot in strong sun if you have darker colors, so keep that in mind. We recommend you seal granite at least once a year. We often get projects to refresh or restore and repair outdoor granite countertops. Here are few samples of our restoration projects:
Quartzite:
Quartzite countertops are also popular (not as much a granite though) material to use in outdoor kitchens. Remember that quartzite (natural stone) is not quartz (man-made stone), which should not be used outdoors because it will go through discoloration of the resin (part of quartz components) from sun and weather exposure. Quartzite is also extremely durable stone just like granite; however, it does not withstand the heat (hot pans and pots better used with trivets). On another positive note, sun exposure doesn't discolor quartzite (compared to quartz and marble). We recommend you seal quartzite at least once a year. 
Concrete:
Although it's not a natural stone, concrete is still a good choice of an outdoor countertop material, which can also be restored and polished. Although concrete is highly durable, it is a porous material and sealing helps it to prevent staining and cracks. Routine sealing is necessary. 
Slate:
Slate could also be used as an outdoor countertop, it's a gorgeous stone, however you should consider that this type of stone is not as durable as granite or quartzite. It is a much softer stone, while some types of slate can be denser, stronger, and more durable, some softer kinds may be easily stained, cracked, and scratched. Those types of slate should be sealed more often than the stronger types of slate countertops.
Other, less popular, types of outdoor countertops are limestone, travertine, and marble. Those types of stone are porous and would require higher maintenance and more frequent sealing.
No matter what type of natural stone your outdoor countertops are made of, it is vital to do proper cleaning, maintenance, and sealing then on the regular basis, this way outdoor countertops will withstand weather elements, delicious cooking and spills, and will las you for many years to come to enjoy outdoors with your family and friends.
Remember to seal your natural stone outdoor countertops at least once a year. If you live in harsh weather conditions or use countertops for lots of outdoor cooking very often, then seal them more often as well. Clean countertops after each meal prep with mild soap and water solution, or you may use a natural stone pH neutral cleaner. Avoid harsh and high acidity chemicals.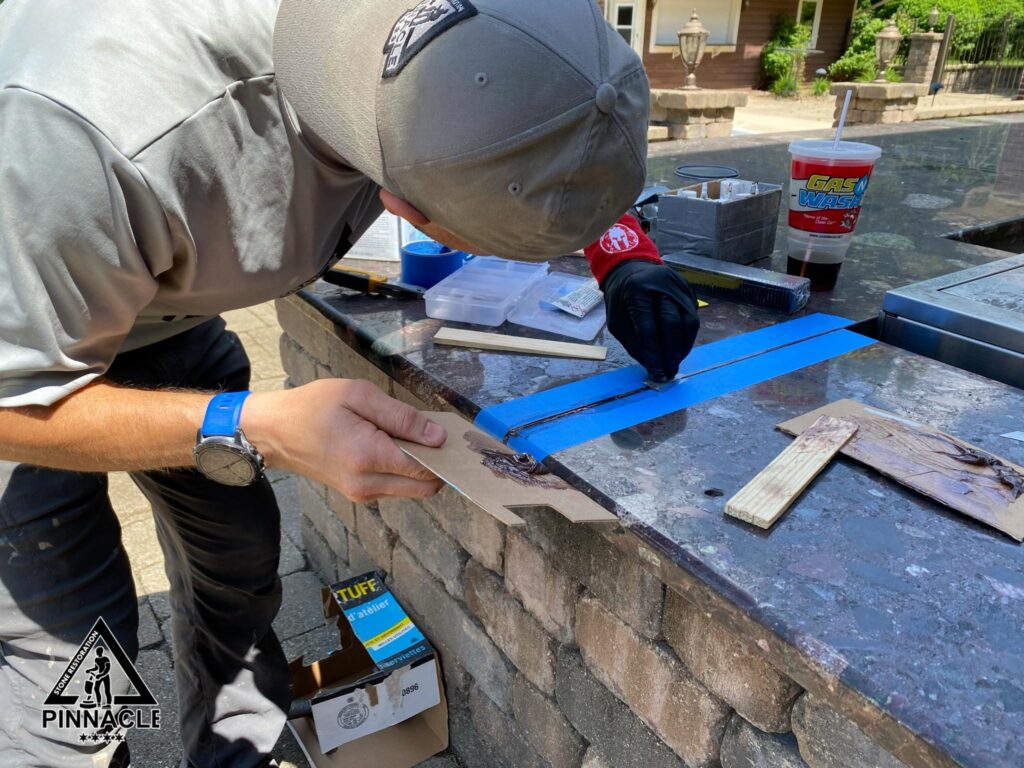 As a rule of thumb, always use trivet under hot pans and pos on your outdoor countertops, just in case. Seal your outdoor countertops regularly. Enjoy the great times outdoors. If your countertops get scratched, stained, dull, cracked, chipped, or broken, we can professionally restore and repair them for you. We offer free estimates which you can send us here.