Throughout many old churches of Chicago and Chicago's suburbs one can notice lots of terrazzo floors installed, 50, 80 and even over 100 years ago. It is an interesting fact that back than people realized the longevity, durability, and great value of terrazzo systems.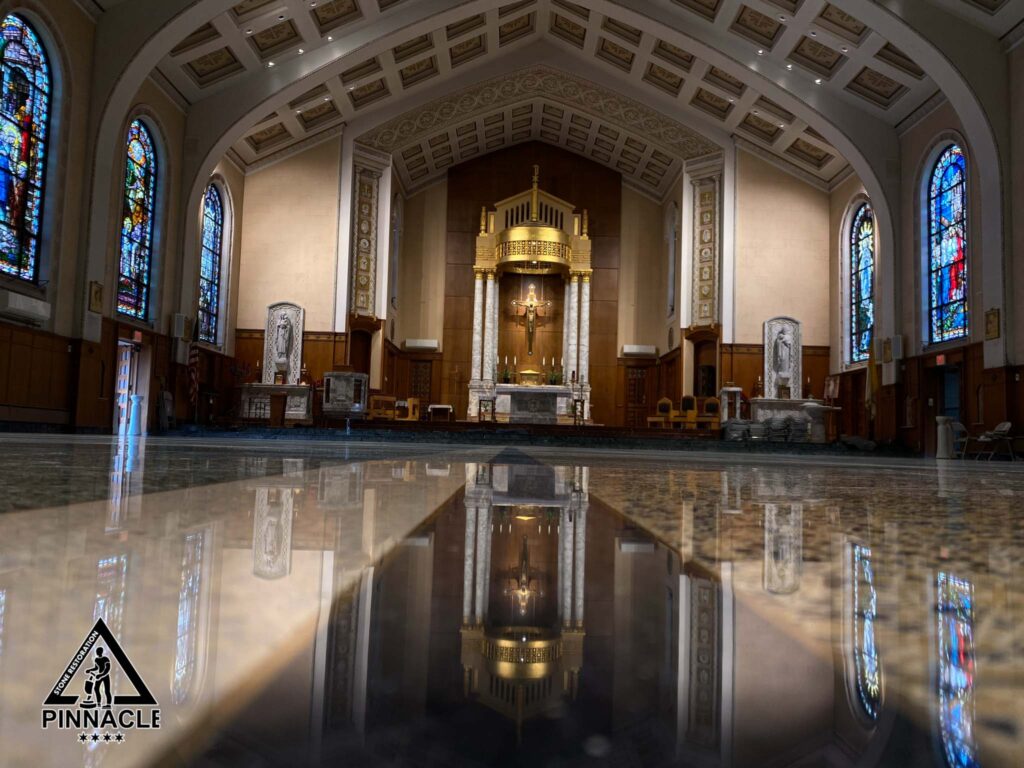 Even back in those days terrazzo floors were a popular choice for it's longevity, durability, easy maintenance, sustainability and gorgeous customizable designs.
It is well known how durable terrazzo flooring is and how popular it is to be installed in a heavy foot trafficked areas in mostly commercial or public spaces. Terrazzo floors are great at withstanding heavy wear and tear and can be easily restored or refinished by stone professionals. These are only few of the reasons why you see terrazzo in so many old churches and other historic buildings.
A lot of old Chicago churches have use terrazzo as a choice of flooring because it also has a number of aesthetic qualities like bright colors and intricate customizable designs that can brighten churches, bring particular sense of elegance, underline some historic features or designs of the church (for example some geometric patterns of terrazzo floors to elaborate mosaics) and bring different feel of the environment depending on designs, colors, type of terrazzo finish (example is an elegant high gloss finish) and other aspects.
Besides all these factors, terrazzo stays a well-known choice for sustainable flooring. Terrazzo can be made from recycled materials and is a good choice for churches that are looking to reduce their environmental impact.
Terrazzo is very easy to maintain type of material. Even in cases that we come across, where old churches haven't had a proper maintenance for 30-50 or 80 years and floors are in a damaged condition with severe wear and tear this type of flooring can be salvageable. That is where a team of terrazzo and stone professionals like us comes in.
We have restored, repaired, refinished, and maintained terrazzo floors in numerous churches of Chicago and its suburban areas for many years. Below we would like to present you with some examples of our most recent terrazzo floor restoration project overviews in some old churches of Chicago and suburbs.
---
---
---
---
---
---
If you are interested in terrazzo or marble restoration or repair give us a call at (630) 379-7362 to schedule a FREE estimate today or write us a message here.